MY FAVOURITE COMPUTER GAME!!
by aaron ting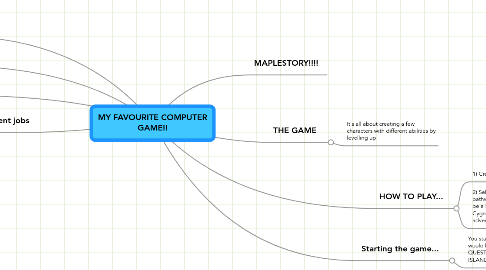 1. Warrior
2. Thief
3. Bowman
4. The different jobs
4.1. Magician
5. MAPLESTORY!!!!
6. THE GAME
6.1. It's all about creating a few characters with different abilities by levelling up
7. HOW TO PLAY...
7.1. 1) Create a character
7.2. 2) Select yr pathway first.. To be a Knight of Cygnus or a normal adventurer
8. Starting the game...
8.1. You start with all the tutorials,just follow it and you would be fine...( NOTE:REMEMBER TO DO ALL QUESTS ON MAPLE ISLAND AND VICTORIA ISLAND...)
8.1.1. 3)Once selection of yr future job path and aesthetics of your opponents are decided, then you are ALL READY for your adventure...