BEFORE SHE MET ME
by
Mirna Radin-Sabadoš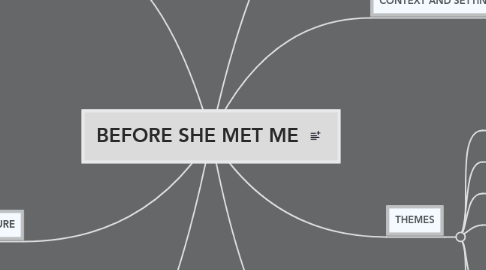 0.0
stars - reviews range from
0
to
5
BEFORE SHE MET ME
well-crafted, satirical short novel with a clear dramatic structure, setting and power
Barnes's second book under his own name. Graham Hendrick divorces, remarries, and finds himself consumed with jealousy as he investigates his new wife's former love affairs. The novel is gritty, shocking, and quite moving in its portrayal of the slow deterioration of its central character.
THEMES
reading life vs. reading books
a follow up from Metroland
love (triangles)
guilt vs. liberation
reason vs. passion
control of primitive and unwanted emotions
coming to terms with one's identity
Graham defines his personalities- profession- wives- daughterResult - absence of identityunable to cope with life experience, with "darker qualities of the adult world"unable to face his emotions
CHARACTERS
Graham
fact vs. fictionreason vs. emotionpast vs. presentquasi-logical flights of imagination
Anne
Jack Lupton
poaches on other people's experience - turns it into textswhich Graham then uses to recreate "history"understands power of the imaginary
Barbara
pragmatismbitternessassuming a rolelacking emotionsanniversary "marital obligations" throw light on Graham's character
SEMINAR TOPICS
Postmodernist approach to past
reconstructing the past from textual evidence
Motive of search
CONTEXT AND SETTING
the TRIUNE brain
Paul D. MacLean The triune brain consists of the reptilian complex, the paleomammalian complex (limbic system), and the neomammalian complex (neocortex) Formulated theory in the 1960s, Carl Sagan's Dragons of Eden made it widely known in 1977.
PATRIARCHY
UNFAITHFUL WIFE =lack of social power and sexual potency of the man considered to have authority - the husband
STRUCTURE
epigraphs
CHAPTER TITLES
voice - narrator
cluastrophobic
limited number of characters and locations
ending
psychologically plausible, not socially realistic
quotes
GENRES
In ''Before She Met Me''... Mr. Barnes is once again playing fast and loose with literary categories. This time, although he has stuck closer to the traditional novel form, he has mixed subgenres, devising something halfway between the academic romps of Kingsley Amis or David Lodge and the violent, steamy tales of James M. Cain. This combination makes for an uneasy hybrid of comedy and melodrama. But while the book lacks credibility in places, few will be able to resist its easy humor and almost insidious readability.
tone
dark humor, heavier than elsewhere Before She Met Me is another such novel of unease, growing menace, and mental disturbance. Barnes himself calls it "a rather nasty book about unpleasant sexual feelings, jealousies and obsessions. It was meant to have had a rather sour and hard-driving edge to it. I think it's my funniest book, though the humor is rather bleak and in bad taste usually." He is right: it is a very funny book. Writing a book this funny which nevertheless turns out to be this savage, without tonal inconsistency or unintended humor, is quite an impressive accomplishment
psychological thriller
black comedy/farce
fabliau
A fabliau (plural fabliaux) is a comic, often anonymous tale written by jongleurs in northeast France between ca. 1150 and 1400. They are generally characterized by an excessiveness of sexual and corporeal obscenity. Several of them were reworked by Giovanni Boccaccio for the Decameron and by Geoffrey Chaucer for his Canterbury Tales. Some 150 French fabliaux are extant, the number depending on how narrowly fabliau is defined. According to R. Howard Bloch, fabliaux are the first expression of literary realism in Europe.
lover's revenge tragedy