Chapter 4: Developing a Transnational Organization: Managing Integration, Responsiveness and Flexibility
by
Paul Venhaus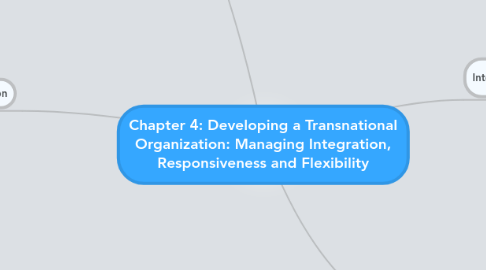 0.0
stars -
0
reviews range from
0
to
5
International Structural Stages Model
companies adopt different organizational structures at different stages of international expansion
Two axis
Foreign Product Diversity
Foreign Sales as a Percentage of Total Sales
Stages
Early Stage, Manage overseas operations through an 'international' division
Afterwards, Expand abroad by entering several countries with a limited product range, Adopt Area Structure, Enter few countries but increase product diversity, Adopt Product division structure, Enter several countries and increase product diversity, Adopt Global Matrix, Sounds like perfect solution but did not work out in practice!
Anatomy (Structure)
Administrative Heritage, Historical Organizational Configuration Models, Decentralized Federation, Multinational Strategy, Coordinated Federation, International Strategy, Centralized Hub, Global Strategy
Administrative Heritage vs. Transnational Organization, Global Strategy, Multinational Strategy, International Strategy
Transnational Organizations, Multidimensional Perspectives, National subsidiary management, Global Business management, Worldwide functional Management, Distributed, Interdependent Capabilities, Integrated Network, Flexible Integrative Processes, Interdependent Management Processes, Centralization, Formalization, Socialization
Physiology (Systems and Processes)
Management needs to develop the communication channels through which the organization's communication takes place. This way it can shape the amount, content and direction of information flows.
Psychology (Culture and Management Mentality)
In an MNE, people will have different cultural backgrounds and beliefs and be separated by time, location and language. Management needs to create a shared understanding of values and beliefs.
Clear, shared understanding of the company's mission and objectives
Visible behavior and public actions of Managers
Personnel policies, practices and systems
Managing the Process of Change
Gross oversimplifications because changes often overlap. Orders just show emphasis
Traditional Change Process
Change in Anatomy leads to change in Physiology leads to change in Psychology Does not work out because people have their own beliefs and values that won't change just because of a different organizational structure
Emerging Change Process
Change in Psychology leads to change in Physiology leads to change in Anatomy Use intensive education programs, followed by alterations to communication flows and decision-making processes. Only when this has taken place, adjust the organizational structure to accommodate the changes.
Transnational Organization in Transition
MNE's are always adapting their form of transnational management
Disenchantment with Formal Matrix Structures
Redefinition of Key Organization Dimensions
The dimensions around which MNE built their global operations were business and geography. Recently the global consumer dimension is becoming more important! Companies shift from "selling products" to "providing solutions"
Changing the Functional Manager Role
Managers of Finance, HR, and IT functions are becoming more important in organizations as companies realize the value of information and knowledge