Chapter 5: Creating Worldwide Innovation and Learning: Exploiting Cross-Border Knowledge Management
by Paul Venhaus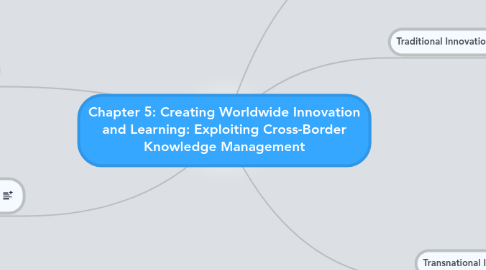 1. R&D is becoming more important than ever
2. Traditional Innovation
2.1. Center-for-Global
2.1.1. Can be improved by
2.1.1.1. Transfer of responsibilities across development, production and marketing
2.1.1.1.1. Panasonic: Transfer People
2.1.1.2. Ensure that all functional tasks are linked to market needs
2.1.1.3. Get Input of Subsidiaries
2.1.1.3.1. Create links between headquarter and subsidiaries!
2.2. Local-for-Local
2.2.1. Can be improved by
2.2.1.1. Empowering Local Management
2.2.1.2. Linking local managers to corporate decision-making processes
2.2.1.3. Integrating Subsidiary Functions
3. Transnational Innovation
3.1. Locally Leveraged
3.2. Globally Linked
3.3. Often blocked by
3.3.1. Assumption that roles of organizational units responsible for very different things should be uniform
3.3.1.1. Don't generalize what needs how much standardization!
3.3.2. Assumption that headquarter-subsidiary relationships should have clear patterns of dependence/independence
3.3.2.1. Build and manage interdependence
3.3.2.1.1. Develop integrated network
3.3.2.1.2. Create proper inter unit integration
3.3.3. Assumption that corporate management has responsibility to make decisions and control uniformly
3.3.3.1. Interdependent units require flexible coordination
4. Important Flows
4.1. Flow of Goods
4.1.1. Formalize as much production procedures as is feasible
4.1.1.1. Formalization of management processes
4.2. Flows of financial, human and technological resources
4.2.1. Only top-level managers can make decisions
4.2.1.1. Coordination by Centralization
4.3. Flow of strategic information and proprietary knowledge
4.3.1. Tacit = can't be formalized
4.3.1.1. Socialization of local managers
5. Mobilizing knowledge