How did Democratic principles and classical culture flourished during Greece's golden age?
by Joe Morrow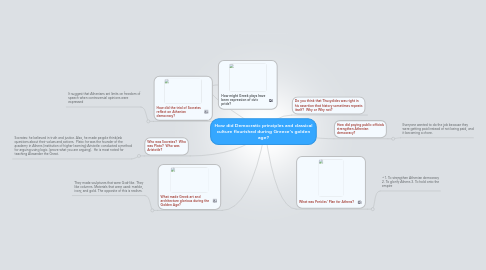 1. How did paying public officials strengthen Athenian democracy?
1.1. Everyone wanted to do the job because they were getting paid instead of not being paid, and it becoming a chore.
2. What was Pericles' Plan for Athens?
2.1. *** 1. To strengthen Athenian democracy 2. To glorify Athens 3. To hold onto the empire
3. What made Greek art and architecture glorious during the Golden Age?
3.1. They made sculptures that were God-like. They like columns. Materials that were used: marble, ivory, and gold. The opposite of this is realism.
4. How might Greek plays have been expression of civic pride?
5. Do you think that Thucydides was right in his assertion that history sometimes repeats itself? Why or Why not?
6. Who was Socrates? Who was Plato? Who was Aristotle?
6.1. Socrates: he believed in truth and justice. Also, he made people think/ask questions about their values and actions. Plato: he was the founder of the academy in Athens (institution of higher learning) Aristotle: conducted a method for arguing using logic. (prove what you are arguing). He is most noted for teaching Alexander the Great.
7. How did the trial of Socrates reflect on Athenian democracy?
7.1. It suggest that Athenians set limits on freedom of speech when controversial opinions were expressed