Eskom National Grid Company David Lipschitz 2010
by
David Lipschitz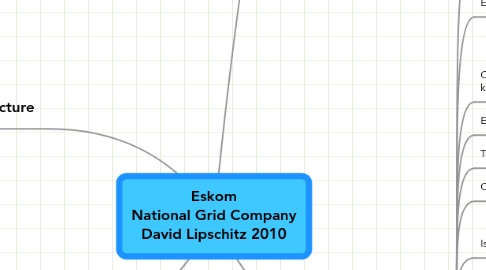 0.0
stars - reviews range from
0
to
5
Eskom National Grid Company David Lipschitz 2010
Parliament Talk Include
Costs
Resources
Current Situation
Split Situation
How Eskom can achieve its goals?
Eskom Structure
Generating Division
Customer Network Business Head: Erica Johnson Secretary: Colleen Helper: Lina
Contacts
Talk
FLOE
Eskom's conflict of interest
Capital Expenditure, Asset Values, Incomes, Costs are known per the divisions
Eskom has two main divisions
The Customer Network Business Division has a number of sub-divisions
One could therefore determine how the split could happen
Is there a precedent for the split?
What is prevented by the current arrangement
The NERSA relationship
Are there alternatives to the suggestion?
Are there strategic problems with the suggestion
Would Eskom be for or against the split?
Who collects the money
NERSA
Relationship with Eskom