Trent Hale
by
Trent Hale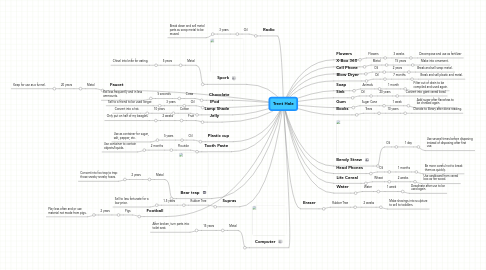 0.0
stars - reviews range from
0
to
5
Trent Hale
Cell Phone
Oil
2 years, Break and sell scrap metal.
Supras
Rubber Tree
1.5 years, Sell to less fortunate for a low price.
Life Cereal
Wheat
2 weeks, Use cardboard from cereal box as fire wood.
Tooth Paste
Flouride
2 months, Use container to contain objects/liquids.
Soap
Animals
1 month, Filter out of drain to be compiled and used again.
Faucet
Metal
20 years, Keep for use as a funnel.
Water
Water
1 week, Desalinate after use to be used again.
Plastic cup
Oil
5 years, Use as container for sugar, salt, pepper, etc.
Gum
Sugar Cane
1 week, Add sugar after flavorless to be chewed again.
IPod
Oil
3 years, Sell to a friend to be used longer.
Books
Trees
10 years, Donate to library after done reading.
Lamp Shade
Cotton
10 years, Convert into a hat.
Sink
Oil
20 years, Convert into giant cereal bowl.
Chocolate
Cows
5 seconds, Eat less frequently and in less ammounts.
Bendy Straw
Oil
1 day, Use several times before disposing instead of disposing after first use.
Jelly
Fruit
2 weeks, Only put on half of my beagles.
Blow Dryer
Oil
7 months, Break and sell plastic and metal.
Radio
Oil
3 years, Break down and sell metal parts as scrap metal to be reused.
Head Phones
Oil
1 months, Be more careful not to break them as quickly.
Football
Pigs
2 years, Play less often and or use material not made from pigs.
X-Box 360
Metal
15 years, Make into ornament.
Spork
Metal
5 years, Chisel into knife for eating.
Eraser
Rubber Tree
2 weeks, Make shavings into sculpture to sell to toddlers.
Bear trap
Metal
2 years, Convert into fox trap to trap those sneeky sneeky foxes.
Flowers
Flowers
3 weeks, Decompose and use as fertilizer
Computer
Metal
15 years, After broken, turn parts into toilet seat.