Derek's Environmental Science Vocab!!!!
by
Derek Maseloff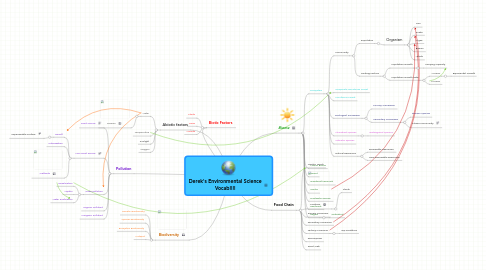 0.0
stars - reviews range from
0
to
5
Derek's Environmental Science Vocab!!!!
Biome
Ecosystem
Community, Population, Organism, Lion, Snake, Algae, Beaver, Whale, Limiting Factors, Population Growth, Carrying Capacity, Population Growth Rate, J Curve, Exponential Growth, S Curve
Temperate Deciduous Forest
Coniferous Forest
Ecological Succession, Primary Succession, Secondary Succession, Pioneer Species, Climax Community
Threatned Species, Endangered Species
Indicator species
Natural Resources, Renewable Resources, New Renewable Resources
Marine Biome
Desert
Grassland/Savannah
Tundra
Freshwater Biome.
Rainforest.
Region
Watershed
Food Chain
Trophic Levels
Producer
Plants
Primary Consumer
Secondary Consumer
Tertiary Consumer
Top Predators
Decomposer
Food Web
Biotic Factors
Plants
Trees
Animals
Biodiversity
Genetic Biodiversity
Species Biodiversity
Ecosysten Biodiversity
Hotspot
Pollution
Point Source
Pollution whose cause can be traced back to a single source
Non Point Source
Animal waste Fertilizers Runoff Pesticides
Runoff, Impermeable Surface
Urbanization
Wetlands
Water pollution.
Desalination
Aquifer
Water Purification
Organic Pollutant
Inorganic Pollutant
Abiotic factors
Water
Erosion
Temperature
Sunlight
Oxygen