Ally Environmental Science Vocab
by
Ally Fraser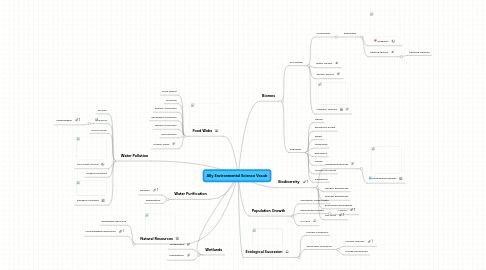 0.0
stars - reviews range from
0
to
5
Ally Environmental Science Vocab
Biomes
Ecosystem
Examples
Food Webs
Food Chains
Producer
Primary Consumer
Secondary Consumer
Tertiary Consumer
Decomposer
Trophic levels
Transfer of energy between consumers. Each level loses 90% of the sun's energy from the previous level.
Threatened Species
A threatened species has a high chance of becoming endangered.
Genetic Biodiversity
Species Biodiversity
Ecosystem Biodiversity
Ecological Sucession
Primary Sucession
Secondary Sucession
Population Growth
Population Growth Rate
Exponential Growth
S-Curve
Starts as a J-Curve, but eventually levels off and does not increase on the y axis.
Water Pollution
Erosion
Runoff
Point Source
Non-Point Source
Organic Pollutant
Inorganic Pollutant
Wetlands
Watersheds
A watershed is an area where water drains into a stream or lake  
Urbanization
Urbanization causes wetlands to be destroyed
Natural Resources
Renewable Resource
Water Purification
Desalination