Ally Environmental Science Vocab
by
Ally Fraser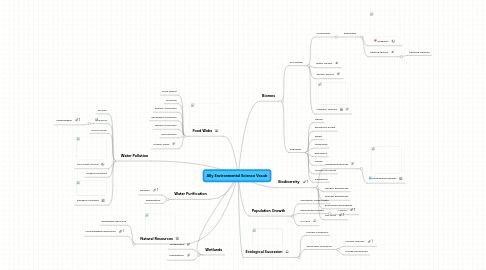 0.0
stars - reviews range from
0
to
5
Ally Environmental Science Vocab
Biomes
Ecosystem
Community, Population, Organism, Limiting factors, Carrying capacity
Biotic factors
Abiotic factors
Indicator Species
Examples
Marine
Deciduous Forest
Desert
Grasslands
Rainforest
Tundra
Coniferous Forest
Freshwater
Food Webs
Food Chains
Producer
Primary Consumer
Secondary Consumer
Tertiary Consumer
Decomposer
Trophic levels
Transfer of energy between consumers. Each level loses 90% of the sun's energy from the previous level.
Threatened Species
A threatened species has a high chance of becoming endangered.
Endangered Species
Genetic Biodiversity
Species Biodiversity
Ecosystem Biodiversity
Ecological Sucession
Primary Sucession
Secondary Sucession
Pioneer Species
Climax Community
Population Growth
Population Growth Rate
Exponential Growth
J-Curve
S-Curve
Starts as a J-Curve, but eventually levels off and does not increase on the y axis.
Water Pollution
Erosion
Runoff
Impermeable
Point Source
Non-Point Source
Organic Pollutant
Inorganic Pollutant
Wetlands
Watersheds
A watershed is an area where water drains into a stream or lake  
Urbanization
Urbanization causes wetlands to be destroyed
Natural Resources
Renewable Resource
Water Purification
Desalination