Environmental Science Jessica
by
Jessica Hudoka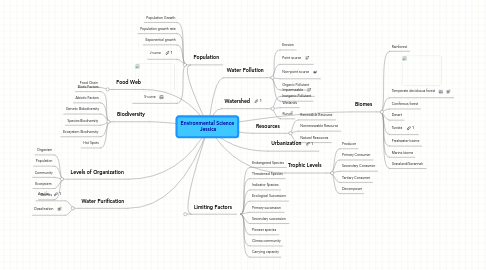 0.0
stars - reviews range from
0
to
5
Environmental Science Jessica
Levels of Organization
Organism
Population
Community
Ecosystem
Biomes
Biomes
Rainforest
Temperate deciduous forest
The Eastern part of the United States.   
Coniferous forest
Desert
Freshwater biome
Marine biome
Grassland/Savannah
Food Web
Food Chain
Trophic Levels
Producer
Primary Consumer
Secondary Consumer
Tertiary Consumer
Decomposer
Biodiversity
Biotic Factors
Abiotic Factors
Genetic Bidodiversity
Species Biodiversity
Ecosystem Biodiversity
Hot Spots
Limiting Factors
Endangered Species
Threatened Species
Indicator Species
Ecological Succession
Primary succession
Secondary succession
Pioneer species
Climax community
Carrying capacity
Population
Population Growth
Population growth rate
Exponential growth
Water Pollution
Erosion
Point source
Point Source pollution is when you know the source of the pollution. Exs. Motor oil from a boat in the water, soil,
Non-point source
Non-point source pollution is pollution that comes from runoff water and you do not know the source. Exs. Cigarette butts, litter, oil, animal waste, etc.
Organic Pollutant
Inorganic Pollutant
Water Purification
Desalinaiton
The process that removes salt and minerals from water.
Impermeable
Impermeable surface does not absorb water. Exs. Driveways, sidewalk, parking lots, etc.
Wetlands
Runoff
Resources
Renewable Resource
Nonrenewable Resource
Natural Resources