Environmental Science Vocab Maggie
by
maggie kingsland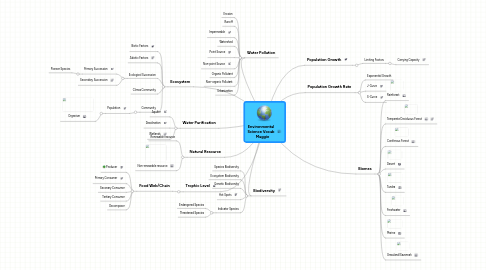 0.0
stars - reviews range from
0
to
5
Environmental Science Vocab Maggie
Ecosystem
Biotic Factors
Living things, Anything that was living, Anything that was once part of a living thing. Animals, Logs, ect.
Abiotic Factors
Non living things like rocks or water.
Ecological Succession
Climax Community
Community
Biomes
Rainforest
Temperate Deciduous Forest
PA is mostly this kind of biome.
Coniferous Forest
Desert
Tundra
Freshwater
Marine
Grassland/Savannah
Trophic Level
amount of energy that is passed on from organism to organism
Food Web/Chain
Biodiversity
Means: the variety of an organism in a geological area.
Species Biodiversity
Ecosystem Biodiversity
Genetic Biodiversity
Hot Spots
Regions with greatest concentration of species.
Indicator Species
Population Growth
How large a population of something is
Limiting Factors
Population Growth Rate
Exponential Growth
J-Curve
Starts off with rising slowly and steadily. then it grow rapidly in a short period of time Form of Graph
S-Curve
Grows rapidly in the beginning and middle. Grows steadily and slowly in the middle and end. Form of Graph
Water Pollution
Erosion
Runoff
Impermeable
Doesn't allow water to sink back into the soil after it rains.
Watershed
Point Source
When you can pinpoint where the pollution is coming from and you can then monitor it
Non-point Source
When you can't pinpoint where pollution is coming from
Organic Pollutant
Non-organic Pollutant
Urbanization
Natural Resource
Renewable resource
Non-renewable resource
Water Purification
Aquifer
underground water source most of our water comes from this source
Desalination
taking salt out of sea water to make it drinkable
Wetlands
Helps purify dirty water