Enviormental Science Wyatt
by
Wyatt DeLong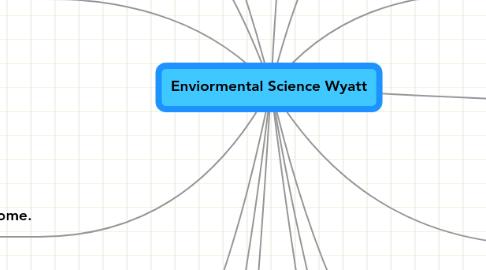 0.0
stars - reviews range from
0
to
5
Enviormental Science Wyatt
Levels organization, smallest to biggest
Organism
Population
Community
Ecosystem
Biome
Biodiverstiy
Biodiversity is the diffferent types of organisms, ecosystems or genes in a area.  
Genetic Biodiversity
Speices Biodiversity
Ecosystem Biodiversity
Hot Spots
Different types of biome.
Temperate Deciduous Forest
Coniferous Forest
Tundra
Desert
Marine Biome
Freshwater Biome
Trophic Layers
Producer
Primary Consumer
Secondary Consumer
Tertiary Consumer
Decomposers
Ecological Succesion
Primary Succession
Secondary Succession
Climax Community
Factors in a ecosystem
Biotic Factors
Abiotic Factors
Carrying Capacity
The total population that a ecosystem can carry before the population needs to be reduced.
Population Growth
Population growth rate
Water Pollution
Aquifier
Desaliniation
Water Purification
Watershed
Natural Resources
Any resource or energy source taken from the earth and used.
Renewable Resources
Nonrenewable Resources
Pollution
Nonpoint source
Point Source
Inorganic Pollutant
Organic Pollutant
Impermeadable
Surfaces that water cannot go through.
Erosion
Runoff
Wetlands
Swampland or land that is verry moist. There are ussually ponds or rivers nearby. They clean out pollution and are a spawning groung for fish and other animals.
Urbanization
The spreading of cities and civilization. It ussually takes up land.
New node