How e-mail marketing can grow your business
by
Cedric Saelens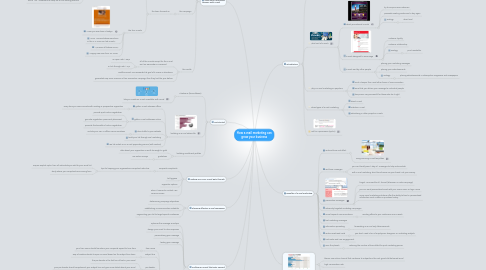 0.0
stars - reviews range from
0
to
5
How e-mail marketing can grow your business
Introduction
What is e-mail marketing?
the use of e-mail in marketing communications
What sort of e-mail?
direct promotional e-mails, try to acquire new customers, persuade existing customers to buy again, analogy, direct mail
e-mails designed to encourage, customer loyalty, customer relationship, analogy, print newsletter
e-mails sent by other people, placing your marketing messages, placing your advertisements, analogy, placing advertisements in subscription magazines and newspapers
Why is e-mail marketing so popular?
much cheaper than most other forms of communication
email lets you deliver your message to individual people
has proven very successful for those who do it right
Three types of e-mail marketing
direct e-mail
retention e-mail
advertising in other people's e-mails
Ask for a permission (opt-in)
Benefits of e-mail marketing
reduced time and effort
using recurring e-mail templates
real-time messages
you can literally send "day-of" messages to help reduce stock
with e-mail marketing, short time frames are your friend, not your enemy.
personalize messages
forget "one-size-fits-all" format (television or radio campaign)
you can send personalized email with your user's name or login name
many email marketing solutions offer the ability to feed in personalized information such as sales or purchase history
extremely targeted marketing campaigns
more frequent communications
sending offers to your customers once a week
test marketing messages
information spreading
forwarding an e-mail only takes seconds
reduce overhead costs
you don't need a ton of employees, designers, or marketing analysts
track sales and user engagement
save the planet!
reducing the number of trees killed for print marketing pieces
Case study: improving revenue with e-mail
How four emails boosted end of year revenue for a non profit by 50%
this email marketing case study was originally published in the July 26, 2011 edition of Marketing Sherpa
HealthConnect One
promotes the health of mothers, infants and families
December is a critical month for donations that will fund the nonprofit organization for the next year
the campaign
the team focused on, keeping it simple, each e-mail template was simple, a large header graphic with a logo, a single picture of a baby, a headline, three to four sentences of copy, a link to donate, also a "P.S." statement to keep the e-mail feeling personal, the four e-mails, "Have you ever been a baby?", "Over 143,000 babies were born in the U.S. since our last e-mail!", "We were all babies once!", "Happy New Year from HC One!"
the results
all of the e-mails except for the e-mail sent on December 23 received, an open rate > 20%, a click through rate > 4%
HealthConnect One exceeded its goal of $15,000 in donations
generated 50% more revenue in their December campaign than they had the year before
Get started
Flashissue (free software)
lets you create an e-mail newsletter with Gmail
building an e-mail adress file
gather e-mail adresses offline, every time you communicate with existing or prospective supporters
gather e-mail addresses online, provide quick online registration, give site registration prominent placement, promote the benefits of online registration
drive traffic to your website, include your URL in offline communications
build your list through viral marketing
use list rentals or an e-mail appending service (with caution)
building constituent profiles
data about your supporters is worth its weight in gold
guidelines, use online surveys
Making sure your e-mail gets through
recipients complaints
tips for keeping your organization's complaint rates low, acquire explicit opt-in from all individuals you add to your email list, study where your complaints are coming from
list hygiene
supporter options
when It comes to content, use common sense
Planning effective e-mail campaigns
determining campaign objectives
establishing a communication schedule
segmenting your list to target specific audiences
Crafting an e-mail that gets opened
optimize the message envelope
design your email to drive response
personalizing your message
testing your message
e-mail basic tips
from name, your from name should be whom your recipients expect to hear from
subject line, 50% of readers decide to open an email based on the subject line alone
pre-header, the pre-header is the first line of text in your email, your pre-header should complement your subject line and give more details about your email, you can even link your pre-header to a landing page
header, on average, 8 out of 10 people will read headline copy, but only 2 out of 10 will read the rest, it's going to keep your recipient reading
personalization
images
call-to-action (CTA)
social badges
Tracking and measuring results
Helpful benchmarks to evaluate your results
open rate
click-through rate (ctr)
response rate
opt-out (or unsubscribe) rate
forward rate
ROI of e-mail marketing
there's one online channel that continues to outperform the rest: good old-fashioned email
high conversation rate
Email has an ROI of around 4,300% (according to the Direct Marketing Association)