Mobile Apps
by Amy U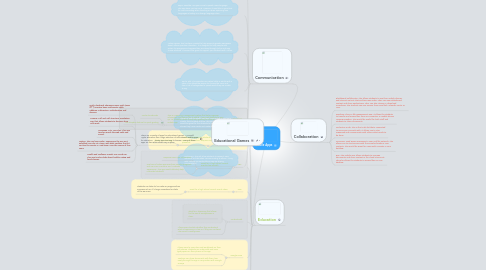 1. Education
1.1. Schoology
1.1.1. This is a Learning Management System that helps organize information and lessons for students. It requires students to sign up. As a benefit, there is very easy grading for teachers in the mobile app.
1.1.1.1. Similar to Edmodo
1.1.1.2. Has dropbox feature for quick grading
1.2. Edmodo
1.2.1. A safe and easy way for students and teachers to communicate online. Requires user name and password.
1.2.1.1. Similar to Schoology
1.3. PBS
1.3.1. Great for a high school current events class as well!
1.3.1.1. Requires some user information
1.3.1.2. Has tons of video resources from popular programs such as Nova, Frontline, and American Experience. This app would definitely help motivated students.
1.4. NPR
1.4.1. Great for a high school current events class!
1.4.1.1. Students can listen to live radio or programs from sources such as All Things Considered or State of the Re:union.
1.5. Understoodit
1.5.1. Ideal for a classroom that allows for the use of smartphones in class.
1.5.2. Allows users to state whether they understand what is happening in class or if they are confused. The service is anonymous.
1.6. Google Drive
1.6.1. Allows users to view docs and worksheets on their cell phones. Students can make edits and even type papers on their phone in this app.
1.6.2. Teachers can share documents with their class easily through this app in conjunction with Google Groups
1.7. Google Maps
1.7.1. A necessity for social studies teachers!
1.7.2. Helps students to see the setting of historical events and how geography effects history and society.
1.8. TEDTalks
1.8.1. While these talks are available on the web or in YouTube, this app helps to organize the talks and make it easier to navigate.
2. Educational Games
2.1. There are a variety of apps for educational games. Microsoft Apple Education has a large selection of educational mobile apps for education. These apps are easy to browse. Many of these apps are free while others vary in price.
2.1.1. Math: Flashcard Champion Basic Math (ages 4-11) Practice basic mathematic skills, addition, subtraction, multiplication and division.
2.1.2. Science: Cell and Cell Structure- Simulation app that allows students to discover how cells work.
2.1.3. Language Arts: ABC Play- This app teaches words through sight and sound.
2.1.4. History: The Civil War Today- experience the war as it unfolded, one day at a time, with daily updates that let you live the events in "real-time" over the course of four years
2.1.5. Health and Wellness: Smash Your Food HD- This app teaches kids about healthy eating and food choices.
3. Communication
3.1. Skype: Skype is free and a great way to connect with others through instant messages, voice or video calls. This would be a great way to share students' presentations to other classrooms all over the world.
3.2. SayHi Translate: Use your voice to speak a new language. This app does cost 99 cents. However, it would be a great tool for communicating when traveling or when exploring new languages in history or a foreign language class.
3.3. AutismXpress: This has been created to help promote greater awareness about autism spectrum disorders. It is designed to help people with autism to recognize and express their emotions through its fun and easy to use interface. This would be great to support your students with Autism.
3.4. Tap to Talk: This provides non-verbal child or adults with a voice. This allows the person to choose the voice and from a list of categorizes to speak words they are unable to say.
3.5. Speak it!: Text to speech solution. Have Speak it read your emails, favorite news articles, documents and more. This would be great for the students to have Speak it! read them stories they have create and make edits.
3.6. Dictionary: This will allow students to research new words to include when communicating to others. Along with looking up words others may use during conversations.
4. Collaboration
4.1. Blackboard Collaborate: This allows students to use their mobile devices and interact via text chat and two-way audio. They can view whiteboard content and share applications. They can also stream or download recordings. The students can join session from email link, calendar invite, or LMS.
4.2. Dropbox: This is a file management app. It allows the students to transfer and access files from any computer or mobile device running Dropbox. This would be useful for both staff and students to share documents.
4.3. Orchestra To-do: This is the to-do list that's connected to everyone you work with. It allows you to stay organized and communicate with others what needs to be done.
4.4. GroupMe: Send group messages to your real life network. This allows you to start groups with the people already in your contacts. This would be great for using with commits in your building.
4.5. Box: This mobile app allows students to manage documents and share content in the cloud at Box.net. This also allows the students to access files on your desktop.