One Fish Two Fish Red Fish Blue Fish
by
Cavon Ray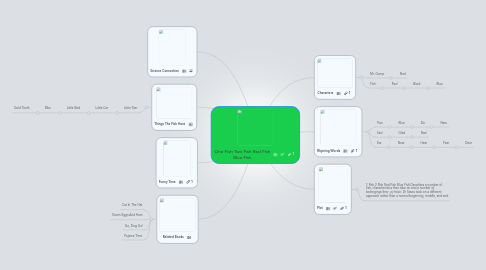 0.0
stars - reviews range from
0
to
5
The purpose of this map is to get our students to understand key ideas, setting, and major events using key details of the story.
Mr. Gump
Fish
Two
Sad
Ear
The story doesn't have a beginning, middle, end plot. Dr. Seuss Uses his rhyming wordplay for new readers to figure out the characteristics of these fish.
1 Fish 2 FIsh Red Fish Blue Fish Describes a number of fish, characteristics they take on and a number of belongings they ,ay have. Dr Seuss took on a different approach rather than a normal beginning, middle, and end.
Science Connection
We will now take the time out to connect living and nonliving things to the story.
Things The Fish Have
Little Star
Related Books
Cat In The Hat
Green Eggs And Ham
Go, Dog Go!
Pajama Time