activities
by
Ashley Tan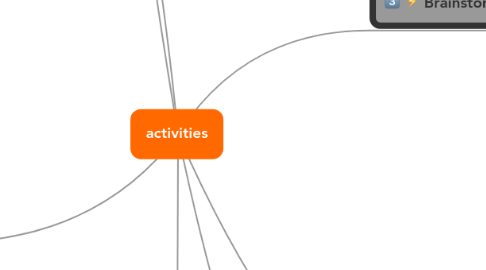 0.0
stars - reviews range from
0
to
5
Global Mindedness
love for reading
Analytical
Intellectual curiousity and inquisitiveness
Disciplined Mind
Brainstorming
Attitudes, beliefs, values, dare to fail, risk-taking, integrity, never say die, resilience, 忍, http://en.wiktionary.org/wiki/%E5%BF%8D
Thinking, empathetic, thinking in different perspectives, creative thinking
Skills, networking, IT Literacy, multi tasking, seeing connections, creativity, prioritizing
Others, EQ, be proactive, Learning Mandarin
Introduction to MindMeister
To add a new "daughter" node, click on the "mother" node and then click on Add. To delete any node, select it and click on Delete. To move a node, click it and drag and drop it where you wish.
JC1 elearning team
Jack Cook, I can read Russian, I cannot drive, I am left handed
Chue Mei Ling, New node
Lim Peng Yeow
Loke Kok Leong
Tee Wen Ching Alysia, I
JC2 elearning team
Lee Dunlin Frances
Loh Zhihong
Lee Keng Hoe, I can drive, I am a joker, 会华语
Lim Beng Teck Larry
Economics department
Yip Oei Lin Anne
Lim Bee Moey
Lim I Reen, i have been to norway, i have been to israel, i have been to germany
Teo Yan Ni Linda, I like blue, I've been to Korea before, I occasionally go to KTV to sing
Alex Lum, Ican ride a bike, Ican handle a speed boat, I can fly a plane, I break the sound barrier!, Traffic Police? What's that?, My dream car is a Landrover disguised as a Porsche, Hellocookie tomorrow is the thing
Pauline Yeong
Vanessa Kwan
Suhana Subhan Binte Mohamed Sulor, I am a pro at Mindmeister
Vanessa Seah
Arts department ICT coordinators
Eric Lee Wei Tat, I would actually rather be an Econs teacher, I have completed a few marathons, I have gone on radio as a deejay
Tan Hua Hui Josef, Economics ROCKS!, but... economic GEOGRAPHY rocks the world! :), I know what's the difference between a ROCK and a STONE
Ashley Tan, I can write backwards, I am a ballroom dancer, I have abseiled down a waterfall.