Management of Value (MoV®) study guide mind map
by
Mirosław Dąbrowski, COO, Agile&IT Coach, Trainer, Consultant, Product Owner, Entrepreneur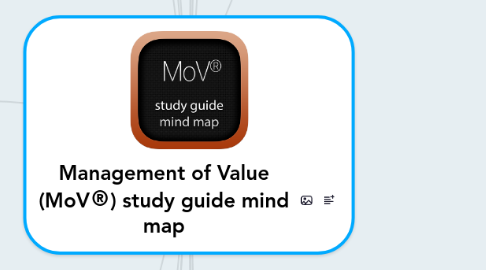 5.0
stars -
40
reviews range from
0
to
5
Management of Value (MoV®) study guide mind map
MoV® is a registered trademark of AXELOS Limited. MoV® logo courtesy of the AXELOS Limited. Trademarks are properties of the holders, who are not affiliated with mind map author.
MoV® Principles (7)
What are principles?
1. Align with organizational objectives
2. Focus on functions and required outcomes
3. Balance the variables to maxinmize value
4. Apply MoV® throught the investment decision
5. Taylor MoV® activity to suit the subject
6. Learn from experience and improve
7. Assign clear roles and responsibilities and build a supportive culture
MoV® Processes (7)
1. Frame the programme of project
2. Gather Information
3. Analyse Information
4. Process Information
5. Evaluate and Select
6. Develop Value-Improving Proposals (VIPs)
7. Implement and Share Outputs
MoV Additional techniques (a.k.a. MoV® Toolbox)
Methods and tools that MAY be used in the application of MoV®.
Business process re-engineering
Conjoint analysis
Cost estimation
De Bono P/M/I
Delphi
Dots
Earned value analysis or management
Elementary skills gap analysis
Excursions and metaphors
Facilitation
Five Ws and an H
Function Analysis System Technique (FAST)
Function priority matrix
HM Treasury's Green Boo
Informationgathering methods
Issues generation and analysis
Kano quality model
Knowledge capture and dissemination
Lean principles and Lean Sigma
Managing difficult people
Net present value
Pareto
Peer review
Presentation techniques
Report writing
Risk management
SCAMPER
Scenario building
Simple Multi-Attribute Rating Technique (SMART)
Soft systems methodology (SSM)
Stakeholder analysis
Stakeholder identification
Strategic choice approach
Strategic options development and analysis (SODA)
Sustainability and triple bottom line
SWOT analysis
Systems thinking
Target costing
T charts
Team-building
Theory of constraints
Tracking benefits realization
Value metrics
Warm-up exercises / ice breakers
Workshop / study toolkit
MoV® Documents (12)
Briefing Meeting Agenda (A.1)
Communications Checklist (A.2)
Equipment List for an Effective Study / Workshop (A.3)
Invitation to Join the Study Team (A.4)
Option Evalutaion Marix (A.5)
Plan the Study (A.6)
Recording Idea Selection (A.7)
Reporting Study Outputs (A.8)
Scoping the Study (A.9)
Study or Workshop Handbook (A.10)
Value-improving Proposal Forms (A.11)
Value Improvement Tracking Report (A.12)
MoV® Official publications
Copyright © AXELOS Limited.
Management of Value
MoV® - process based standard and framework (not methodology) for general (not industry specific e.g. IT or Engeenering) Value Management. MoV® is one of the 12 recognized globally and practically proven management standards from AXELOS® Global Best Practice family of UK standards.
MoV® V1 was published in 04.2010.
How MoV® fits into AXELOS® Global Best Practices family of UK standards.
AXELOS® Global Best Practices family of standards from UK.
Since 2000 the Office of Government Commerce (OGC), former owner of PRINCE2® (and other Best Management Practices) has been the custodian of the portfolio on behalf of UKG. In June 2010 as a result of UKG reorganisation the Minister for the Cabinet Office announced that the PRINCE2® functions have moved into Cabinet Office.
MoV® Official resources
Copyright © AXELOS Limited.
MoV® sample exams, available online
MoV® examination syllabus
MoV® glossary
MoV® White Papers
MoV® website
MoV® Roles and Responsibilities (7)
Executive Board
MoV® Representative on Executive Board
MoV® Board (or Steering Group)
Senior MoV® Practitioner
MoV® Study Leaders (or Study leaders)
MoV® Study Team (or Study Team)
Support Office (if there i one)
MoV® Techniques (18)
Methods and tools used in the application of MoV®.
MoV® specific techniques (3)
Common techniques used in MoV® (15)
Embedding MoV® into an organization
MoV® Policy
Plan For Implementing the MoV® Policy
Trainings
MoV® Study Leader's Handbook
Data Capture Feedback
Monitoring and measuring the benefits
Overcoming barriers to embedding MoV®
Avoiding Failure
Basic Definitions (according to AXELOS®)
Portfolios / Programme / Project Management
Project / Programme / Portfolios
Output, Capability, Outcome, Benefits
Interactive MoV® Glossary
This freeware mind map (aligned with the newest version of MoV®) was carefully hand crafted with passion and love for learning and constant improvement as well for promotion the standard and framework MoV® and as a learning tool for candidates wanting to gain MoV® qualification. (please share and give feedback - your feedback and comments are my main motivation for further elaboration. THX!)
MoV® Value Management Health Check (1)
Each health check will occur using the following steps:
MoV® Value Management Maturity Model (1)
Derived from P3M3®
5 Levels of maturity
The use of maturity models is now widespread, with international adoption across multiple industries.
Interesting links
http://www.designingbuildings.co.uk/wiki/Value_management_techniques_for_building_design_and_construction#Value_benchmarking_.28or_value_profiling.29