Management of Value (MoV®) study guide mind map
by
Mirosław Dąbrowski, COO, Agile&IT Coach, Trainer, Consultant, Product Owner, Entrepreneur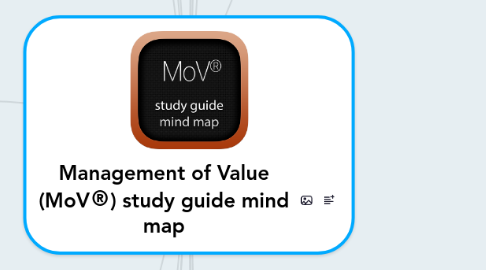 5.0
stars -
40
reviews range from
0
to
5
Management of Value (MoV®) study guide mind map
MoV® is a registered trademark of AXELOS Limited. MoV® logo courtesy of the AXELOS Limited. Trademarks are properties of the holders, who are not affiliated with mind map author.
MoV® Principles (7)
What are principles?
Principles are factors that underpin MoV®.
Principles are universally applicable statements., Principles are generic principles - the way in which they are applied must be tailored to suit the organizational circumstances, whilst ensuring the underlying rationale is maintained., Prainciples are the common, universal and high-level factors that underpin success., They provide guidance to organizations., They guide the organization on what to aim for.
1. Align with organizational objectives
MoV® applications are fully aligned with the organization's strategic objectives.
A consistent approach is applied across all projects and programmes.
2. Focus on functions and required outcomes
Focus on functions and required outcomes, in terms which clearly state what value means for the organisation .
MoV® focuses on the functions that are necessary and sufficient in order to deliver the required programme and project outcomes and outputs in terms that clarify what value means for the organization, so providing the basis for making decisions that lead to maximum value.
We need to work out what we are trying to achieve before we start thinking about what to deliver.
supported by, Product functions (not outcomes or outputs), Value Drivers, Value Profiles, Value Trees, Function Analysis System Technique (FAST)
3. Balance the variables to maxinmize value
MoV® engages with all key stakeholders, reconciling their objectives to balance benefits and their delivery against the total use of resources, thereby maximizing value.
Effective stakeholder engagement will identify differing needs, to allow a balance of benefits to be defined that is acceptable to everyone.
supported by, Engegement of stakeholders, Reducing subjectivity, Balancing the use of resources, Balancing benefits realized against use of resources
4. Apply MoV® throught the investment decision
MoV® is applied through all stages of the total lifecycle of the programme or project. Its focus will evolve as it moves from stage to stage and progress should be continually monitored
5. Taylor MoV® activity to suit the subject
MoV® is tailored to suit the project's environment, size, complexity, criticality and risk.
A small and simple project is unlikely to require the same level of effort as a complex one.
6. Learn from experience and improve
MoV® applications encourage learning from experience and improvement by recording previous experience, creating an audit trail of decisions and actions and sharing lessons across all projects.
Build on the good experiences and avoid repeating mistakes.
supported by, Invidual improvement, MoV® Process improvement, Organizational maturity improvement
7. Assign clear roles and responsibilities and build a supportive culture
MoV® applications are supported by clearly defined roles and responsibilities. The organizational structure should engage the business, user and supplier stakeholder interests to build a supportive, value-adding culture.
Without commitment and buy-in, MoV is unlikely to be wholly successful.
MoV® Processes (7)
1. Frame the programme of project
Goal, Understand the rationale behind the project or programme and the objectives to achieve.
Involves gaining an understanding of the objectives and issues that need to be addressed, taking into account the organizational context and external factors. Information gained can be used to support or challenge the need for the project.
Activities, Initial briefing meeting, As soon as a project / programme has been identified for the application of MoV®, Senior MoV® Practitioner, or MoV® Study Leader if identified, should meet ith key project stakeholders to stablish the requirements for the MoV® Project Plan., Informing the business case, The main objective of an MoV® Study at the outset, or start up, of a programme or potential project is to strengthen existing information, An MoV® Study at this stage may be used to inform an OGC Gateway 0 or 1 Review, Stakeholder analysis, In MoV®, stakeholder mapping is used to ensure that the appropriate stakeholders are consulted or involved in the MoV® processes, Stakeholders are grouped according to their degree of influence (or power), Stakeholders with less power but great interest can form strong allies, Use of a value profile to inform programme and project objectives, There is no point in starting a project unless there is agreement on its purpose., MoV® helps to identify the primary Value Drivers and relate them to the project objectives using a weighted Value Tree, this technique, known as Value Profiling, Developing the MoV® Project Plan, MoV® Project Plan will describe the purpose of a series of MoV® Studies to be undertaken throughout the project and how they will be implemented, Identify suitable candidates to lead and participate in the MoV® Studies, Prepare specific management responses to value-improving proposals (VIPs), The risk of delay in authorizing the implementation of these proposals should be minimized, The use of the MoV® Project Plan ensures that all participants understand the need for each study and what improvement is sought, Responding to changes in the business case, If the business case changes, the MoV® Project Plan must also change in order to ensure that the value profile reflects the changed needs of the business., This will have an impact on the selection of options or the evelopment of value-improving proposals (VIPs)., Specialist applications
2. Gather Information
Goal, What are the expectations from the MoV® Study, who do we need on the MoV® Study Team, who are the stakeholders, what are their needs.
Involve as many different stakeholders as possible in order to understand the expectations from the project under study, identify suitable team members, understand stakeholders' needs and other project-related information.
Activities, Briefing meeting, All information needed for MoV® Study Handbook, acts as a breefing document, Team selection, Knowledge + issues to be addressed + skills, Collaboration, Consulting with stakeholders, Research and precedent, Scoping
3. Analyse Information
Goal, Enrich the gathered information, use techniques like FAST to understand the purpose and analyse alternative ways of performing or delivering the functions., Analyzing the gathered information to form useful input to the MoV® Study.
The MoV® guide gives details of some of the more commonly used techniques, such like FAST or Value Trees.
Function analysis is a key feature of MoV® and is based on the following fundamental questions:, What is the purpose? Until you understand the purpose of something, its value cannot be assessed., How else could this be achieved? Once you understand the purpose, alternative ways of performing or delivering the function may be identified, which may perform better or be less costly.
Activities, Function analysis, Resource analysis, Function cost analysis, Benchmark analysis
4. Process Information
Goal, Working with the MoV® Study Team to use the above input information to develop innovative and Value-Improving Proposals (VIPs).
The MoV® Study Team uses the information to explore alternative proposals to improve value, typically through a series of meetings and workshops. New ideas will arise and often it is found that a function is not actually needed, so can be eliminated from the proposal.
Activities, Preparation, Facilitation, Creativity and innovation
5. Evaluate and Select
Goal, Selecting the proposals that have most potential for practical and beneficial implementation.
The MoV® Study Team evaluates the merits of the different options by assessing their performance against value drivers, to identify those that add most value.
Balance the variables to maximize the value., Balancing the needs of different stakeholders, Balancing the use of (often scarce) resources, Balancing the benefits expected against the cost of money and resources to deliver
Activities, Idea selection, Option selection, Cost benefit analysis
6. Develop Value-Improving Proposals (VIPs)
Goal, Working up the outline proposals into fully developed recommendations for presentation to decision-making management.
The MoV® Study Team develops the selected ideas into value-improving proposals for decision and implementation.
Activities, Proposal development formats, Peer review, Balancing the benefits and use of resources, Value metrics, Cost estimation, Assessing time impact, Assessing performance impact, Scenario building, Specialist applications
7. Implement and Share Outputs
Goal, Develop the plan, implement accepted Value Improvement Proposals (VIPs), monitor progress, gather lessons learned and share for continuous improvement.
A plan for implementing the selected option is developed and implemented.
A benefits management process should be implemented to track achievement of expected benefits.
Ideally, the measures used to assess adding value will be the same as those already used by the project to track progress and assessment of benefits.
Activities, Developing the proposal implementation plan, Incentivizing delivery of value, Monitoring progress, Reporting
MoV Additional techniques (a.k.a. MoV® Toolbox)
Methods and tools that MAY be used in the application of MoV®.
Business process re-engineering
Conjoint analysis
Cost estimation
De Bono P/M/I
Delphi
Dots
Earned value analysis or management
Elementary skills gap analysis
Excursions and metaphors
Facilitation
Five Ws and an H
Function Analysis System Technique (FAST)
Function priority matrix
HM Treasury's Green Boo
Informationgathering methods
Issues generation and analysis
Kano quality model
Knowledge capture and dissemination
Lean principles and Lean Sigma
Managing difficult people
Net present value
Pareto
Peer review
Presentation techniques
Report writing
Risk management
SCAMPER
Scenario building
Simple Multi-Attribute Rating Technique (SMART)
Soft systems methodology (SSM)
Stakeholder analysis
Stakeholder identification
Strategic choice approach
Strategic options development and analysis (SODA)
Sustainability and triple bottom line
SWOT analysis
Systems thinking
Target costing
T charts
Team-building
Theory of constraints
Tracking benefits realization
Value metrics
Warm-up exercises / ice breakers
Workshop / study toolkit
MoV® Documents (12)
Briefing Meeting Agenda (A.1)
What is it?, The objectives of a briefing meeting are to understand the project, the type of study that is needed, study logistics and how any feedback arrangements will be handled.
Communications Checklist (A.2)
What is it?, Visualize the exact circumstances in which the information is to be received. This will then suggest the best way to receive it.
Equipment List for an Effective Study / Workshop (A.3)
What is it?, The majority of studies will require that presentations are made, and all will need some equipment to record discussions and decisions. This checklist covers the most common requirements
Invitation to Join the Study Team (A.4)
What is it?, Certain information is essential to ensure that participants are well prepared from the start
Option Evalutaion Marix (A.5)
What is it?, Often it is necessary to choose between a few options to assess which provides best value for money. Table A.1 in official MoV publication provides a format for doing this
Plan the Study (A.6)
What is it?, Generic plan of activities for a single study will generally include the following
Recording Idea Selection (A.7)
What is it?, A method is needed to capture all ideas and evaluate them, so that a proportion can be selected for further development
Reporting Study Outputs (A.8)
What is it?, The outcomes of an MoV® study must always be recorded and fedback to its sponsors, Outline for a generic MoV® report, with all content that should be considered against its audience
Scoping the Study (A.9)
What is it?, The study scope documents the name and purpose of the study and lists the study sponsor and stakeholders. It also lists assumptions, constraints and givens.
Study or Workshop Handbook (A.10)
What is it?, MoV® Study Team will need certain guidelines and information, The MoV® Study Leader will use some of this information to decide how best to conduct the study
Value-improving Proposal Forms (A.11)
What is it?, Some sort of standard form is necessary for summarizing and presenting the outputs from a value study in a way that allows them to be compared., They can be prioritized against available funds
Value Improvement Tracking Report (A.12)
What is it?, Monitoring progress in implementing the agreed changes following a MoV® study, According to MoV® it saves a great deal of time if this is run in a spreadsheet, with dropdown lists of the value drivers and owners etc., it will be necessary to score how easy it is to implement, the likely capital investment (later, this will be the amount actually used) and the operating cost (whether or not this is a measure)
MoV® Official publications
Copyright © AXELOS Limited.
Management of Value
ISBN-13: 978-0113312764
Published: 2010
Pages: 161
http://www.amazon.co.uk/Management-value-Michael-Dallas/dp/0113312768/
The most important, key position on MoV® preparing for exams Foundation and Practitioner.
ISBN-13: 978-0113312795
Published: 2010
Pages: 48
http://www.amazon.co.uk/An-executive-guide-value-management/dp/0113312792
MoV® - process based standard and framework (not methodology) for general (not industry specific e.g. IT or Engeenering) Value Management. MoV® is one of the 12 recognized globally and practically proven management standards from AXELOS® Global Best Practice family of UK standards.
MoV® V1 was published in 04.2010.
How MoV® fits into AXELOS® Global Best Practices family of UK standards.
MoV® in AXELOS® Global Best Practices family
AXELOS® Global Best Practices family of standards from UK.
PRINCE2® Agile, see PRINCE2® Agile mind map
ITIL®, see ITIL® mind map
M_o_R® - Management of Risk, see M_o_R® mind map
MoV® - Management of Value, see MoV® mind map
MoP® - Management of Portfolios, see MoP® mind map
MSP® - Managing Successful Programmes, see MSP® mind map
PRINCE2® - PRojects IN Changing Environments, see PRINCE2® mind map
P3O® - Portfolio, Programme and Project Office, see P3O® mind map
yet remember - "In reality there are no such things as best practices. There are only practices that are good within a certain context."
Since 2000 the Office of Government Commerce (OGC), former owner of PRINCE2® (and other Best Management Practices) has been the custodian of the portfolio on behalf of UKG. In June 2010 as a result of UKG reorganisation the Minister for the Cabinet Office announced that the PRINCE2® functions have moved into Cabinet Office.
AXELOS are a new joint venture company, created by the Cabinet Office on behalf of Her Majesty's Government (HMG) in the United Kingdom and Capita plc to run the Best Management Practice portfolio, now called AXELOS Global Best Practice
https://www.gov.uk/government/publications/best-management-practice-portfolio/about-the-office-of-government-commerce
MoV® Official resources
Copyright © AXELOS Limited.
MoV® sample exams, available online
MoV® Foundation, http://online.apmg-exams.com/index.aspx?subid=99&masterid=33
MoV® examination syllabus
EN, http://www.mov-officialsite.com/nmsruntime/saveasdialog.aspx?lID=78&sID=26
MoV® glossary
EN, http://www.axelos.com/gempdf/Axelos_Common_Glossary_2013.pdf
MoV® White Papers
The basics: Management of Value, http://www.axelos.com/gempdf/The_Basics_MoV.pdf
Business benefits of implementing MoV™, http://www.axelos.com/gempdf/Business_Benefits_of_Implementing_MoV.pdf
MoV® website
http://www.mov-officialsite.com/
MoV® Roles and Responsibilities (7)
Executive Board
Full alignment of MoV® activities and processes with organizational objectives
MoV® Representative on Executive Board
Promote MoV®
Likely to be the sponsor who represents MoV®
MoV® Board (or Steering Group)
Oversee MoV® implementation
Senior MoV® Practitioner
Responsible for implementing the MoV® Policy and contribute to its development and updating from time to time.
The individual charged with leading the implementation of the MoV® Implementation Plan.
Person responsible for managing the MoV® effort.
Experienced in MoV, have both the knowledge and skill to apply it. (unlikely to already exist in the organization, offen consultant).
Will be to undertake activities and publish material to build a culture within the organization that understands and supports the concept of maximizing value both for the organization and the project stakeholders.
Will be actively engaged in all aspects of the MoV® programme and must demonstrate leadership and competence in the subject to inspire and motivate all those who are involved.
Creates MoV® Policy Implementation Strategy.
Mentoring and coaching.
Import MoV® skills and knowledge.
MoV® Study Leaders (or Study leaders)
Lead MoV® studies
Help Secion MoV® Practitioner in activitier selated witn MoV® implementatio,
MoV® Study Team (or Study Team)
Participate in studies
Low level MoV® members
Support Office (if there i one)
Provide data for use in studies and communicate results and learning
Trainings and MoV® promotion
Suggests and implemnets MoV® related software
MoV® Techniques (18)
Methods and tools used in the application of MoV®.
MoV® specific techniques (3)
Function Analysis, What is it?, Why + How, Function Analysis challenges the assumptions most people make about how a product or service satisfies a need., Asking How and Why a function accomplishes the need., Only then can you begin to understand what is necessary to accomplish the function., As used in MoV®, function analysis is very closely focused on customer needs and wants., The fundamental logic underlying all function analysis is to ask 'Why (do we want to do this)?' to move from lower-order functions to higherorder functions and to ask 'How (do we propose to do it)?' to move in the opposite direction., Identification of functions (at the heart of value management) of products, processes, projects or services., Determines what functions are delivered, i.e. what they do or must do, not what they are (avoiding solution mode)., There are 2 main methods of Function Analysis:, Function Analysis System Technique (FAST) diagrams, FAST diagram works by asking how the functions (primary and secondary) other by ask HOW? and WHY? questions to check that the logic works., Later costs are added to functions to assist in identifying any VM mismatches or areas of over-engineering., functions, higher-order functions, Changing a higher-order function will lead to change in lower order functions, as the reasons for the functions have changed, Project objective or customer need may also be known as the higher-order function, primary functions, Each of the primary functions contributes to fulfilling the higher-order function, primary basic functions, essential to the existence of a product, primary support functions, those that differentiate one product from another similar one, lower-order functions, A function contributing to the delivery of a basic function. These are often important to a successful product or service, supporting functions, Generic primary supporting functions, Assure dependability, Assure convenience, Enhance product, Please senses, Satisfy customer, connections, 'when' connection, two or more functions must be delivered simultaneously, 'and' connection, two or more lower-order functions must be satisfied for a higher-order function to be achieved, 'or' connection, more than one way to achieve a higher-order function, There are 3 main forms of FAST diagram:, Traditional, Technical, Customer, Value Trees (a.k.a. Objectives hierarchy) and useful derivatives, Diagrammatic process for identifying objectives in a hierarchical manner., Often used in conjunction with functions., Diagram that shows the relationship between value drivers and their hierarchy (Value Drivers are those functions that must be delivered to achieve a project's objectives)., Value Trees, Diagram that shows the relationship between, and the hierarchy of, Value Drivers, Arranging value drivers into a value tree greatly assists project team members in gaining a common understanding of the project imperatives, The Value Tree provides a simple but precise method of conveying the function that needs to be fulfilled and also the level of quality that is required, Value Profiling, Once a value tree has been developed, it is possible to prioritize the relative importance of the primary value drivers to the client body and end users, Simple Multi-Attribute Rating Technique (SMART), Uses similar logic to the value profile, Method of distilling meaningful measures of value by use of a 'Simple, Multi-Attribute Rating Technique' or SMART, Combines traditional value engineering with soft-systems thinking, Value Index (a.k.a. performance index), The product of the value driver weighting (reflecting its importance to achieving the objectives) and the performance rating (how well the project, in its current state of development is likely to deliver individual value drivers) provides a number which is known as a value score., Provides a measure of how well an option, project or product satisfies an individual value driver or the aggregate of all value drivers, The sum of all value scores across all value drivers is the value index., This indicates how well a project satisfies key stakeholders' needs, measurable customer staisfaction., For each Value, Performance scale from 0 to 10, The value index does not, however, indicate whether the project represents value for money (VfM)., Value Metrics, Metrics may be set for hard and soft attributes and for monetary or nonmonetary benefits, For each project type, there should be fewer than 10 Value Drivers, so the number of metrics should be manageable, The Value Metrics will form part of the lessons-learned database, Value for Money (VfM) ratio, Shows an assessment of value for money, taking into account monetary and non-monetary benefits, The VfM ratios for individual value drivers provide a means of focusing MoV effort on those value drivers that provide least VfM and enable the team to redistribute resources to where they will provide greater value, A VfM ratio can be used in option selection, Helpful to monitor progress during the development of a project and should be conducted at key project milestones, The higher the value for money ratio, the greater is the value for money. It provides a measure for value for money for both monetary and non monetary benefits.
Function Cost Analysis (FCA), Cost / Worth (a.k.a. 'cost to function'), What is it?, Method of function analysis which examines the cost of performing each function shown in a FAST diagram, Goal of FCA is achievement of the highest consumer satisfaction of production at simultaneous decrease in all kinds of industrial expenses (production costs)
Value Engineering (VE) / Analysis, What is it?, Recognized techniques for generating alternative actions to improve value through balancing function and cost without detriment to quality, Original process introduced in the USA shortly after the II World War, Primary purpose is to improve value in an existing design or set of circumstances by studying in detail 2 fundamental questions:, What functions must be delivered?, How else can they be performed?, Most commonly used in MoV®, Improving value in an existing design, VE comprises 8 steps, usually referred to as phase, Information phase, 'pre-event' - meeting with stakeholders, Analysis phase, Negative functions not providing value - delete or minimize, Positive functions, but high costs, Functions not working properly, Stakeholders benefits that are not being met, Creative (or speculation) phase, Invite the workshop team to highlight any areas of the project that hold particular potential for value improvement, Conducts a creative session with the MoV® Team, Capture as many ideas as possible for improving value, Evaluation phase, Evaluate the ideas and select those that warrant further effort to develop into Value Improving Proposals (VIPs), Development phase, Select ideas and develop them into full Value Improving Proposals (VIPs), Presentation phase, Present recommendations to a decision-makers to agree which should be included in the project and agree an MoV® Implementation Plan, Implementation phase, Compile a report on the VE study as a record of the event, Guide for the project team who will implement the Value Improving Proposals (VIPs), Follow-up phase, Full benefits arising from the VE study will only be realized if the implementation plan is rigorously followed through, Progress is monitored, Appropriate remedial action taken if expectations are not being realized, VE study will be arranged and facilitated by a skilled MoV® Study Leader, At the end of the workshop or shortly thereafter, the team will present their findings and recommendations to a decision-making panel and agree an implementation plan, Value-improving proposals (VIPs) will then be implemented by the project team
Common techniques used in MoV® (15)
techniqes for information analysis, Benchmarking, Process mapping, Uses flow charts to review steps in processes., Identifies processes in a diagrammatic format in a step-by-step manner., Often used in manufacturing of system type processes., Used to identify omissions or superfluous items in the process for correction., Root cause analysis, Discounted cash flow analysis
techniques for idea generation, Brainstorming (a.k.a. mind showering), Idea generation that focuses on creation of ideas by volume (no judging)., Allows a large volume of ideas to be generated in a short period., Also strives to ensure all parties are involved - no ideas are discounted initially (later evaluation and filtering undertaken).
techniques for evaluation and option selection, Option evaluation matrix, Allocation to categorie, Idea selection matrix
techniques for weighting, Paired comparisons, Points distribution
techniques for developing value-improving proposals (VIPs), Cost benefit analysis (CBA), Used to analyse the costs of implementing something compared to the benefits to be, Used to analyse the costs of implementing something compared to the benefits to be achieved., Assists business case submissions., Often used in VM on procedure or process type projects., Can be combined with other tools; for example, process mapping, option selection., Decision-building meeting
techniques for implementing VIPs and follow-up, Implementation plans, Feedback, Tracking benefits
Embedding MoV® into an organization
MoV® Policy
Plan For Implementing the MoV® Policy
Trainings
Awareness training
Foundation-level training
Practitioner-level training
Advanced study leader training
MoV® Study Leader's Handbook
How to apply MoV® to projects and programmes
Data Capture Feedback
Monitoring and measuring the benefits
MoV® Study Report
Overcoming barriers to embedding MoV®
We do it anyway
It takes too much time
We can't afford to make changes
What's in it for me?
Don't fix it if it ain't broke
Fixed returns on capital investment
Avoiding Failure
OGV - "Common Causes of Project Failure", 2005, http://miroslawdabrowski.com/downloads/NAO%20OGC%20-%20Common%20causes%20of%20project%20failure.pdf, 1. Lack of clear link between the project and the organisation's key strategic priorities, including agreed measures of success., 2. Lack of clear senior management and Ministerial ownership and leadership., 3. Lack of effective engagement with stakeholders., 4. Lack of skills and proven approach to project management and risk management., 5. Too little attention to breaking development and implementation into manageable steps., 6. Too little attention to breaking development and implementation into manageable steps., 7. Lack of understanding of and contact with the supply industry at senior levels in the organisation., 8. Lack of effective project team integration between clients, the supplier team and the supply chain.
Basic Definitions (according to AXELOS®)
Portfolios / Programme / Project Management
Portfolio Management, A coordinated collection of strategic processes and decisions that together enable the most effective balance of organizational change and business as usual (BAU).
Programme Management, The action of carrying out the coordinated organization, direction and implementation of a dossier of projects and transformation activities to achieve outcomes and realize benefits of strategic importance to the business.
Project Management, The planning, delegating, monitoring and control of all aspects of the project, and the motivation of those involved, to achieve the project objectives within the expected performance targets for time, cost, quality, scope, benefits and risks.
Project / Programme / Portfolios
Portfolio, An organization's change portfolio is the totality of its investment (or segment thereof) in the changes required to achieve its strategic objectives.
Programme, A programme is a temporary, flexible organization created to coordinate, direct and oversee the implementation of a set of related projects and activities in order to deliver outcomes and benefits related to the organization's strategic objectives., 3 types of programmes, Vision-led programme, Emergent programme, Compliance programme
Project, A temporary organization, usually existing for a much shorter time than a programme, which will deliver one or more outputs in accordance with a specific business case., A particular project may or may not be part of a programme., Whereas programmes deal with outcomes, projects deal with outputs., 5 types of projects, Compulsory project, Not-for-profit project, Evolving (Agile, RUP) project, Customer/supplier project, Multi-organization project
Output, Capability, Outcome, Benefits
Output, The deliverable, or output developed by a project from a planned activity. Any project's specialists products. (tangible or intangible), e.g., A new just-in-time stock control system, A new IT system, Staff training programme, Revised process
Capability, The completed set of project outputs required to deliver an outcome; exists prior to transition., e.g., The combination of the outputs ready to 'go live'.
Outcome, A new operational state achieved after transition of the capability into live operations. Result of the change derived fron USING the project's outputs., e.g., The right materials are available, at the right time, and in the right place
Benefit, The MEASURABLE improvement resulting from an OUTCOME perceived as an ADVANTAGE by ONE or MORE of stakeholders, which contributes towards one or more organizational objectives(s)., e.g., Fewer stock-outs and consequent interruptions to production., Reduced obsolescent stock and hence lower write-offs., Reduced stock holdings and so less working capital tied up.
Dis-benefit, An outcome perceived as NEGATIVE by ONE or MORE stakeholders. Dis-benefits are actual consequences not risks.
Interactive MoV® Glossary
This freeware mind map (aligned with the newest version of MoV®) was carefully hand crafted with passion and love for learning and constant improvement as well for promotion the standard and framework MoV® and as a learning tool for candidates wanting to gain MoV® qualification. (please share and give feedback - your feedback and comments are my main motivation for further elaboration. THX!)
http://www.miroslawdabrowski.com
http://www.linkedin.com/in/miroslawdabrowski
https://www.google.com/+MiroslawDabrowski
https://play.spotify.com/user/miroslawdabrowski/
https://twitter.com/mirodabrowski
miroslaw_dabrowski
MoV® Value Management Health Check (1)
Each health check will occur using the following steps:
Preparation
Data collection
Data analysis, Identify trends and patterns, note strengths and deficiencies, identify 3 -5 key themes, conduct intermediate review with the sponsor and identify recommendations.
Review and report
Implementation
MoV® Value Management Maturity Model (1)
Derived from P3M3®
as stated in official publication:, "The MoV maturity model mimics the P3M3 structure outlined in Figure D.1."
5 Levels of maturity
Level 1 – Awareness process
Level 2 – Repeatable process
Level 3 – Defined process
Level 4 – Managed process
Level 5 – Optimized process
The use of maturity models is now widespread, with international adoption across multiple industries.
not only Risk Maturity Models, Quality, Integration, Project Managment, etc.
see Maturity Models mind map
Interesting links
http://www.designingbuildings.co.uk/wiki/Value_management_techniques_for_building_design_and_construction#Value_benchmarking_.28or_value_profiling.29