MEDS Process Flow Chart
by Kapil Israni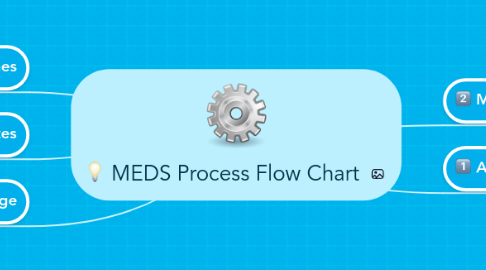 1. Mapping Stage
1.1. Use Hints Option
1.2. Run QC check at end of each FS
1.3. Use 'Mapping Compare' tab option
1.4. Check Value Tree
1.5. Preview Page (for WASO and EPS data points)
1.6. Run QC Check
1.6.1. Approve QC With Comments
1.6.2. Resolve
2. Guidlines
2.1. Before junking file delete all table information in order to avoid DBQC
2.2. Use of COMMENT BOX available in AOR + MS Page in case of change in company reporting style, split data or any other information (if any).
2.3. Bottlenecks while processing from AOR to MS Page:
2.3.1. Special characters in AOR Page.
2.3.2. Change of production template (EXOI) and collection template (MEDS).
2.3.3. Error in period header information (Popup dialogue box stating respective FS)
3. Notes
3.1. Happy Filling
4. AOR Stage
4.1. Verification of assignment
4.1.1. Task List Management
4.1.1.1. Company Status
4.1.1.2. Effective Date
4.1.1.3. Form Type
4.1.1.4. Duplicate File (English and Foreign Language file)
4.1.2. Base overview page
4.1.2.1. MSFT / Non MSFT Market
4.1.2.2. Bought data
4.2. AOR main
4.2.1. Checkpoints
4.2.1.1. Company Name
4.2.1.2. Group / Parent Reports
4.2.1.3. Consolidated / Standalone Reports
4.2.1.4. Check raw file data with original file output
4.3. Data Parsed or Not Parsed
4.3.1. Data Parsed
4.3.1.1. Check data parsed with proper dates and other information
4.3.2. Data Not Parsed
4.3.2.1. Open AOR Preparation Page
4.3.2.1.1. Image File
4.3.2.1.2. Non Image File
4.4. Run QC check before starting of notes collection part (In order to know all header info is correct or not)
4.5. Collection of notes (Collection depend upon market such UK / Indian / Other)
4.5.1. Open Original Page (In order to parse notes table)
4.5.2. Search notes either from FS number or by values
4.5.3. Parse required information (For PPE table put extra efforts to check it includes intangible / construction in progress part)
4.5.4. Final Check
4.5.4.1. Notes taken under proper catagory Eg. WASO data collected under WASO notes only
4.5.4.2. Header Information
4.5.4.3. Number of columns matching with respective FS
4.5.4.4. DA can use 'Copy' tab option available righthand side of notes it will copy header information and column data from respective FS
5. NNFS Stage
5.1. Search file by DOC ID
5.2. Search for required data points (UK / Non UK Market)
5.3. Check 'Overview' tab - to confirm historical period data
5.4. Run QC Check
5.4.1. Approve QC With Comments
5.4.2. Resolve
5.5. Check 'Overview' page to confirm data properly showing in'Adjusted Column' tab
5.6. Run QC Check at 'Overview' page
5.6.1. Approve 'IPO' related QC
5.6.2. Approve QC With Comments
5.6.3. Resolve
5.6.4. Don't forget to QA approve and SignOff