Derechos (WIndstorms)
by Vickie Anderson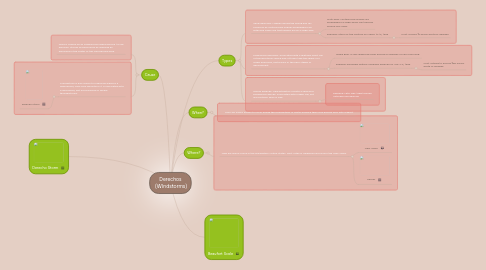 1. Cause
1.1. Wind is caused by air flowing from high pressure to low pressure. Storms produce wind by lowering air pressures in the center of the low pressure area.
1.2. A windstorm is also similar to a derecho which is a widespread, long-lived windstorm. It is associated with a land based, fast moving band of severe thunderstorms.
1.2.1. Derecho Storm
2. Where?
2.1. They are mainly found in the Midwestern United States. Most often in Oklahoma and across the Ohio Valley.
2.1.1. Ohio Valley
2.1.2. Kansas
3. When?
3.1. They are mainly known to occur during the summertime. In North America they form around April until August.
4. Types
4.1. Serial derechos: Happen during the spring and fall. Produces by multiple bow echoes embedded in an extensive squall line that sweeps across a large area.
4.1.1. Multi-Bow: Multiple bow echoes are embedded in a large squall line typically around 250 miles.
4.1.2. Example; Storm of the Century on March 12-13, 1993
4.1.2.1. Cost: Around $2 billion worth of damage
4.2. Progressive derechos: Associated with a relatively short line of thunderstorms which may at times take the shape of a single bow echo, particularly in the early stages of development.
4.2.1. Single Bow: A very large bow echo around or upwards of 250 miles long.
4.2.2. Example; Boundary Waters-Canadian Derecho on July 4-5, 1999
4.2.2.1. Cost: Totaled to around $85 million worth of damage
4.3. Hybrid Derecho: Characteristics of both a serial and progressive dercho. Associated with a deep low, but are relatively small in size.
4.3.1. Example; Late-May 1998 tornado outbreak and derecho
5. Beaufort Scale
6. Derecho Storm