JOHNSTON COMMUNITY SCHOOL DISTRICT- TECHNOLOGY COORDINATOR- ANN WILEY
by
Andrea Poe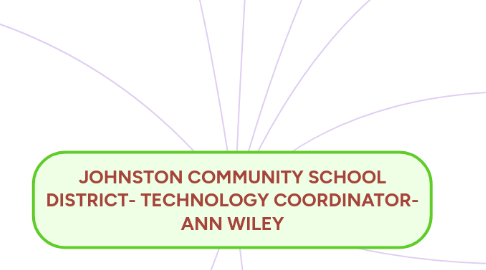 0.0
stars -
0
reviews range from
0
to
5
JOHNSTON COMMUNITY SCHOOL DISTRICT- TECHNOLOGY COORDINATOR- ANN WILEY
TEACHER/ STUDENT COLLABORATION
Webmaster Program
ITEC presentations
Google Domain development for students and staff
School Fusion- Webpage/blogging tool
Technology Camp- Teachers sessions
Hyperstream Club- student club/ award winners
1:1 Initiative- lead students and teachers in launch- 1600 ipads
JHS app development- school communication tool and peer mentoring
LEADERSHIP: Program Development/Initiatives
Hyperstream- working with HS kids/Zirous
1:1 Student Tech Leaders- HS
1:1 Digital Learning Environment Initiative- 1600 ipads
Teacher/Admin PD
IT Adventures Club- HS Club: robotics,game design, cyber defense-- STATE awards!
Webmaster Program- 5th-HS participate
ITEC Student Projects
Online Safety Program/Iowa State Patrol Ed. Division
Initiated Technology Integration Collaborative Initiative with Area Teachers/Tech Coordinators
DigiGirlz Club- HS girls focusing on women in technology and related careers
CURRICULUM DEVELOPMENT
K-5 - Technology Standards: assessment, materials, data analysis
Grade 6- Computer Applications curriculum
Grade 7- revised Computer Application Curriculum
Grade 7- Digital Media Literacy Course
Grade 8-Tech Literacy Course
Grade 8 - NCLB Technology Literacy Program
Grades 9-12- Collaborated on HS curriculum and materials
PERSONAL GROWTH AND DEVELOPMENT
Heartland Tech Coordinators PLC
ITEC Conference and Member
PLN- Twitter, Blogs, Connect with other Educators
ADMINSTRATION
Goal Setting for district
Technology Policy development
Meet with Elementary Integrationalist
Report to School Board
Maintenance
IPAD Device Management
IPAD Apps
Infinite Campus
Moodle
School Fusion Roll over
Support
STAFF PROFESSIONAL DEVELOPMENT
Google Domain
Tech Tools- Latest Ingrations
School Fusion Website/Blogging
Building Tech Team Training
1:1 Staff Training and Pedagogy Support
Moodle
Infinite Camput
Student Tech Project Management
Curriculum Rollouts
Ipad Apps
Webmaster Program Coordinators
Lead 20+ ITECH Workshops
GRANT WRITING
2009 Johnston CSD Foundation Grant for fitness Innovations through technology
2008 QWEST grant for innovative music tools
2 - 2009 Prairie Meadows Grants
AWARDS
2013 Women of Innovation by the Technology Association of Iowa
Apple Distinguished School for 2013 to 2015 for its innovative 1:1 iPad® program for all students grades 10-12, launched in January 2013.
2012 JCSD -The R.O.S.E. Award, which stands for Recognizing Outstanding Support of Education
2008 JCSD Outstanding Teacher Award
2006 State Technology Leadership Award from ITEC
2003 Apple Distinguished Award
Multiple years- Heartland AEA Computer Learning Award