Post-Secondary Options
by Nathan Carlson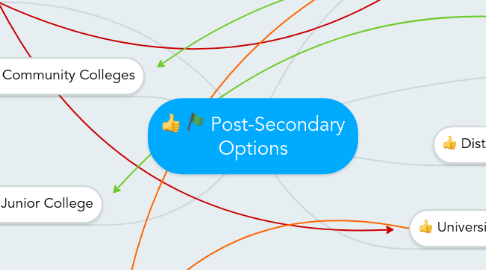 1. Colleges
1.1. 4 Year that grants Bachelor & Associate Degrees this is under graduate. Tuition and Room and Board
1.1.1. Luther College
2. University's
2.1. 4 Year that grants Bachelor & Master Degrees. Private & Public, Usually have Room and Board and Tuition unless you get scholarship Money.
2.1.1. University of Iowa, Iowa state University
3. Community Colleges
3.1. Public two year colleges that grants associates degrees, have a Tuition fee and sometimes Room and Board.
3.1.1. Iowa Central Community College.
4. Junior College
4.1. Basically a Community College But Private, Tuition and Room & Board.
4.1.1. Iowa Western
5. Distance Education
5.1. You can take college courses while not going to the classes.
6. ACT & SAT
6.1. In order to get into college you have to score well on these test.
7. Graduate Post-Secondary Options
7.1. Get Your Master's & Doctoral Degree After You Graduate.
8. FASFA
8.1. Can apply for this for financial aid to help pay for college.