HS Graduation
by Naomi Castillo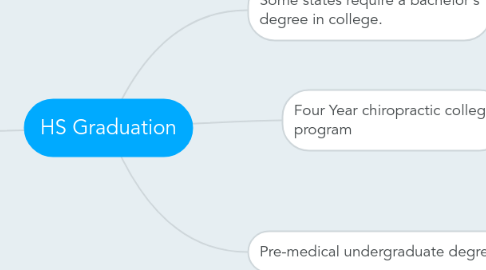 1. High school Classes
1.1. Anatomy
1.2. Physics
1.3. Chemistry
1.4. Psychology
1.5. Biology
2. Some states require a bachelor's degree in college.
2.1. complete an internship through a four year chiropractic college program
2.1.1. pass the National Board of Chiropractic Examiners' and/or other state-required examinations tests.
2.1.1.1. State requirements are different in very state so you have to different things for the state you want to practice.
2.1.1.1.1. http://www.discoverchiropractic.org/?gclid=CJ75panwt7wCFcERMwodXhQA2g (scroll down to the map)
3. Pre-medical undergraduate degree
3.1. College classes
3.1.1. Nutrition and Public Health
3.1.2. Rehabilitation
3.1.3. Physiology
3.2. Must complete a one-year clinical-based training
3.2.1. minimum 4,200 hours in classroom, laboratory and clinical experience
3.2.2. deal with actual patient care
4. Four Year chiropractic college program
4.1. Fourth year
4.1.1. Clinical internship of approximately 1,000 hours
4.2. Third year
4.2.1. Chiropractic principles Clinical application of manual procedures Clinical internship Clinical laboratory clerkship Clinical psychology Dermatology Differential diagnosis Geriatrics Imaging interpretation Integrated chiropractic clinical application Jurisprudence Obstetrics and gynecology Pediatrics Physiological therapeutics Practice management Radiological position and technique
4.3. Second Year
4.3.1. Chiropractic principles Chiropractic procedures Clinical applied chiropractic Clinical microbiology Clinical nutrition Clinical orthopedics and neurology Community health Differential diagnosis Imaging interpretation Jurisprudence Nutritional assessment Pathology Pharmacotoxicology Physics and clinical imaging Physiological therapeutics Practice management Research methods
4.4. First year
4.4.1. Chiropractic procedures Clinical applied chiropractic Functional anatomy and biomechanics Fundamentals of nutrition General anatomy Histology Human biomechanics Human physiology Introduction to physical examination skills Neuroscience Normal radiological anatomy Palpation