High School Diploma- 4 years of High School
by Courtney Raes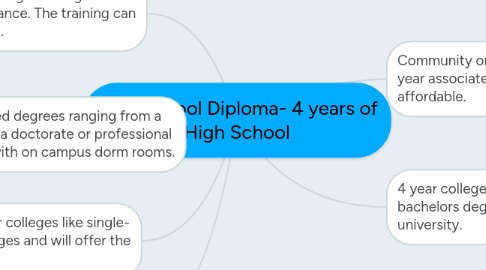 1. Community or Junior college- Usually offers a 2- year associates degree and is much more affordable.
1.1. Associates degree- 2 years of college
2. 4 year college- Offers more advanced degrees like a bachelors degree. They are usually smaller than a university.
2.1. Bachelors degree- 4 years of college
3. Universities- Also offer advanced degrees ranging from a bachelors degree all the way to a doctorate or professional degree. Usually a large school with on campus dorm rooms.
3.1. Masers degree- 6 years of college
3.2. Doctorate degree- 8 years of college
3.3. Professional degree- 8+ years of college
4. Private school- Are usually more expensive than public college, but offer good financial aid to make is affordable.
5. Other colleges- There are other colleges like single- sex colleges and religious colleges and will offer the same types of degrees.
6. Vocational colleges- Offer training for things like cosmetology or medical assistance. The training can range anywhere from 1-3 years.