What are your alternative words to Mind Map?
by
Andrew Wilcox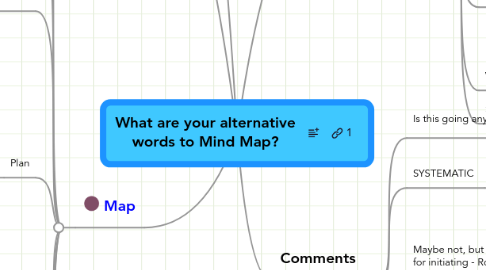 0.0
stars - reviews range from
0
to
5
One word only please at the second level.  Your comments and criticisms can be longer.
Guide
Whta the fuck
Brain
Mind
Magoroh Maruyama: Mindscapes in Management. Only mapping is one cause map a.k.a. influence diagram, that he has used and had cited (e.g. in Karl Weick, The Social Psychology of Organizing) in many works since 1963!  
Proposition
Thought
SYNAPTIC
WHOLISTIC
Subject
Map
Idea
Visual
Static
Plan
FRAMEWORK
METHOD
TOOL
Model
Comments
Is this going anywhere?
Uppercase words are my input (Wallace Tait), and I have taken the liberty of arranging the map a little. This initaitive may be limited by the reality of many mappers being merely part of the cottage industry that Mind mapping is and remains to be. No offence intended to any contributor, but as much as I cringe at the term Mind mapping, maybe we are just merely trying to reinvent the Mind mapping wheel regarding a new definition.
SYSTEMATIC
Maybe not, but kudos to Andrew for initiating - Roy Grubb
What is this about?