Tech Systems
by
Matthew Hayward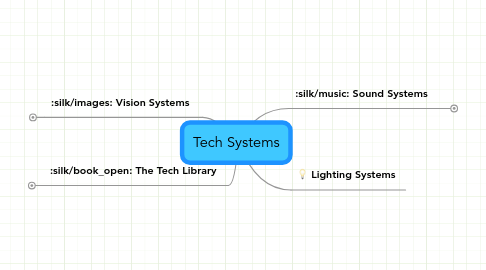 0.0
stars - reviews range from
0
to
5
The Tech Library
Instruments
Acoustic Guitar NoFP, Acoustic guitar that doesn't require phantom power.
Acoustic Guitar FP, Acoustic guitar that requires phantom power.
Bass Amp
Interfaces
Acoustic Adapter, Dumb adapter allowing a Jack lead to connect to an XLR lead.
DI, Direct Input. Smarter than Acoustic Adapter. Cleans signal and can provide phantom power to instruments.
3.5mm to 2xRCA cable, Dumb adapter allowing 3.5mm socket (e.g. iPod) to connect to two RCA sockets.
RCA to Jack Adapter, Dumb adapter allowing RCA lead to connect a Jack socket.
Speakers
MSR400, Speaker with builtin amp. Often used as front-of-house in mobile applications.
Foldback, Passive speaker. Takes Jack lead as input. Can be daisy chained.
Leads
Jack
XLR
Power
IEC
RCA
3.5mm
VGA
S-Video
Sound Systems
Equipment Tag: cKiYO4
Inputs, 01, XLR, AA Receiver, Radio Signal, SM58 Radio Mic, 02, XLR, 02(9Vch), 9V Receiver, Radio Signal, PG58 Radio Mic, 03, XLR, 03(9Vch), 9V Receiver, Radio Signal, PG58 Radio Mic, 04, XLR, 04(9Vch), 9V Receiver, Radio Signal, PG58 Radio Mic, 05, XLR, 05(9Vch), 9V Receiver, Radio Signal, PG58 Radio Mic, 06, XLR, 06(9Vch), 9V Receiver, Radio Signal, PG58 Radio Mic, 07, XLR, 07(9Vch), 9V Receiver, Radio Signal, PG58 Radio Mic, 08, 09*, Multicore, 09(stg), XLR, DI, Jack, Korg, MIDI, Roland, 10, Multicore, 10(stg), XLR, Bass Amp, 11*, Multicore, 11(stg), XLR, DI, Jack, Acoustic w/ Phantom, 12, Multicore, 12(stg), XLR, SM58 Mic, Electric Amp, 13, Multicore, 13(stg), XLR, Acoustic Adapter, Jack, Acoustic w/o Phantom, 14*, Multicore, 14(stg), XLR, DI, Jack, Violin, 15, Multicore, 15(stg), 16, Multicore, 16(stg), 17/18, 19/20, 21/22, 2xRCA to Jack Adapter, 2xRCA, DVD 1, 23/24, 2xRCA to Jack Adapter, 2xRCA, DVD 2, 25, Multicore, 25(stg), 26, Multicore, 26(stg), 27, Multicore, 27(stg), 28, Multicore, 28(stg), 29*, Multicore, 29(stg), XLR, Choir Receiver, Choir Mic/Lead, Choir Head, 30*, Multicore, 30(stg), XLR, Choir Receiver, Choir Mic/Lead, Choir Head, 31, Multicore, 31(stg), 32, Not connected, used for Syke Lights
Outputs, Masters Stereo, XLR, Master EQ (left), XLR, Crossover, Subwoofer Amp (left), Speakon, Subwoofer (left), Speakon, Powered Front of House (centre), XLR, Master EQ (right), XLR, Crossover, Subwoofer Amp (right), Speakon, Subwoofer (right), Speakon, Powered Front of House (left & right), Masters B, Not used, Groups, Group 1, Not used, Group 2, Not used, Group 3, Not used, Group 4, Not used, Speakers, Left, Not used, Right, Not used, Aux Sends, Mon 1, XLR, Foldback 1 EQ, XLR, Foldback 1 Amp, Jack, Front Centre Foldback, Centre F/B Socket, Not Used, Mon 2, XLR, Foldback 2 EQ, XLR, Foldback 2 Amp, Jack, Front Left Foldback, Jack, Front Right Foldback, Aux 1, XLR, Foldback 3 EQ, XLR, Foldback 3 Amp, Right F/B Socket, Jack, Keys Foldback, Jack, Violin Foldback, Aux 2, XLR, Foldback 4 EQ, XLR, Foldback 4 Amp, Left F/B Socket, Jack, Drums Foldback, FX1, RCA to Jack Adapter, RCA Splitter, RCA, HDD Recorder, RCA, Recording PC, FX2, RCA to Jack Adapter, RCA, Foyer Amp, RCA, Wallplate (desk), Wallplate (foyer), RCA, LCD TV, Entrance Speakers
Returns, FX1, Not used, FX2, Not used, Aux1, Not used, Aux2, Not used
Tape, Stereo Input, Not used, Stereo Output, Not used
Yamaha MG24FX Function Room System
Lighting Systems
Vision Systems
Vision Mixer
Input 1, Tri-head Left Output A, Input A, Through ceiling, to left video platform
S-Video Input 2, RCA to S-Video Adapter, Tri-head Middle Output A, Input A, Through ceiling, to right video platform
Input 3, Tri-head Left Output B, Input B, DVD/VCR Video Out, Pioneer DVD Player
Input 4, Tri-head Middle Output B, Input B, Video Out, NEC VHS/DVD Player
Preview Out, Tri-head Right Input B
Output 1
Output 2, Tri-head Right Input A, Output A, Avico VDA4 Video Input, Avico VDA4 AV Splitter, Video Out 1/Audio Out 2, HDD/DVD Recorder, RCA Out, TCL Mini TV, Video Out 3, Wall Panel C3, Audio Input, fx1
S-Video Output
Coriogen
S-Video In
Composite In
PC In, VGA Splitter, Sound Desk PC, Sound Desk PC Preview Monitor
S-Video Out, Through ceiling, likely to projector S-Video Inputs
Composite Out, Composite Amplifier, Left Projector Video Input, Right Projector Video Input
PC Out, VGA Amplifier, Left Projector Computer 1 Input, Right Projector Computer 1 Input