Lo Mejor del Futbol
by
Gregorio Ruiz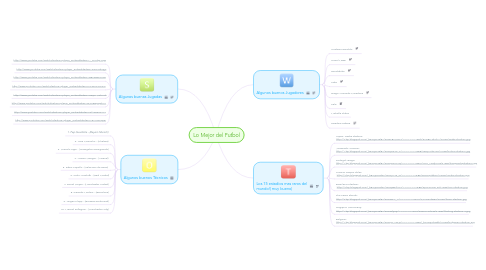 0.0
stars -
0
reviews range from
0
to
5
Algunas buenas Jugadas
patents strong brand names good reputation among customers cost advantages from proprietary know-how exclusive access to high grade natural resources favorable access to distribution networks  
http://www.youtube.com/watch?feature=player_embedded&v=V_KcYdpLLqw
http://www.youtube.com/watch?feature=player_embedded&v=KZnUr8lcqjo
http://www.youtube.com/watch?feature=player_embedded&v=w8K8E8FSvo8
http://www.youtube.com/watch?feature=player_embedded&v=mCrRHP4LFmo
http://www.youtube.com/watch?feature=player_embedded&v=NBpu-M6kXCk
http://www.youtube.com/watch?feature=player_embedded&v=BW2Rwpqwh1U
http://www.youtube.com/watch?feature=player_embedded&v=GfAxRE7PJ14
http://www.youtube.com/watch?feature=player_embedded&v=cRcU4DIg2eI
Los 15 estadios mas raros del mundo!( muy bueno)
shifts in consumer tastes away from the firm's products emergence of substitute products new regulations increased trade barriers
Japon, Osaka stadium: http://4.bp.blogspot.com/_bEOj2c4el8Y/Sx2sPBvMOPI/AAAAAAAAEDk/3SNBF-rdOhA/s1600/osaka-stadium.jpg
Venezuela, Caracas: http://1.bp.blogspot.com/_bEOj2c4el8Y/Sx2qGS4oVLI/AAAAAAAAEBE/99zqYOhe-Ro/s1600/bolivia-stadium.jpg
Portugal, Braga: http://1.bp.blogspot.com/_bEOj2c4el8Y/Sx2qG4CCIqI/AAAAAAAAEBM/nCK_HaqhYCw/s1600/bragarockystadium.jpg
Croacia Gospin dolac: http://4.bp.blogspot.com/_bEOj2c4el8Y/Sx2qY1vZ_aI/AAAAAAAAEBs/saNNryubbvc/s1600/croatia-stadium.jpg
Brasil Eco-Stadium: http://3.bp.blogspot.com/_bEOj2c4el8Y/Sx2qZBUfCCI/AAAAAAAAEB0/FpnX9sLmMis/s1600/eco-stadium.jpg
The Faroe Islands: http://3.bp.blogspot.com/_bEOj2c4el8Y/Sx2rwILX_1I/AAAAAAAAECU/vWAZKvil5Bo/s1600/faore-stadium.jpg
Singapur, Marina Bay: http://1.bp.blogspot.com/_bEOj2c4el8Y/Sx2rwfy4zjI/AAAAAAAAECc/Z4DYi1e7bu8/s1600/floating-stadium-3.jpg
Bulgária: http://1.bp.blogspot.com/_bEOj2c4el8Y/Sx2qHVXw-pI/AAAAAAAAEBc/_bK79qOhQkk/s1600/bulgarian-stadium.jpg
Algunos buenos Jugadores
Bueno, Algunos de los jugadores de futbol que marcaron la historia...!!!
Cristiano Ronaldo
Cristiano Ronaldo dos Santos Aveiro, OIH, known as Cristiano Ronaldo, is a Portuguese footballer who plays as a forward for Spanish club Real Madrid and captains the Portugal national team. He became the most expensive footballer in history when he moved from Manchester United to Real Madrid in 2009 in a transfer worth £80 million. Ronaldo's contract with Real Madrid, under the terms of which he is paid €21 million per year, makes him the highest-paid footballer in the world, and his buyout clause is valued at €1 billion as per his contract. Ronaldo began his career as a youth player for Andorinha, where he played for two years, before moving to C.D. Nacional. In 1997, he made a move to Portuguese giants Sporting Clube de Portugal. Ronaldo caught the attention of Manchester United manager Alex Ferguson, who signed him for £12.24 million in 2003. In 2004, Ronaldo won his first club honour, the FA Cup. Ronaldo was the first player playing in England to win all four main PFA and FWA awards, doing so in 2007. In 2008 and 2013, Ronaldo won the FIFA/Ballon d'Or award for the best footballer on the planet, being the first ever Portuguese to win the award twice. He was awarded the European Golden Shoe in both 2008 and 2011. In 2008, he won three of the four main PFA and FWA trophies and was named the FIFA World Player of the Year, FIFPro Player of the Year, World Soccer Player of the Year, and the Onze d'Or. In 2007 and 2008, Ronaldo was named FWA Footballer of the Year. Ronaldo was the inaugural winner of the FIFA Puskás Award for the Goal of the Year in 2009.
Lionel Messi
Lionel Andrés Messi is an Argentine footballer who plays as a forward for Spanish club FC Barcelona and the Argentina national team. He serves as the captain of his country's national football team. By the age of 21, Messi had received Ballon d'Or and FIFA World Player of the Year nominations. The following year, in 2009, he won his first Ballon d'Or and FIFA World Player of the Year awards. He followed this up by winning the inaugural FIFA Ballon d'Or in 2010, and then again in 2011 and 2012. He also won the 2010–11 UEFA Best Player in Europe Award. At the age of 24, Messi became Barcelona's all-time top scorer in all official club competitions. At age 25, Messi became the youngest player to score 200 La Liga goals. Widely recognised as the best player in the world and rated by some commentators, coaches and players as the greatest footballer of all time, Messi is the first football player in history to win four FIFA/Ballons d'Or, all of which he won consecutively, as well as the first to win three European Golden Shoe awards. Messi has won six La Ligas, two Copas del Rey, five Supercopas de España, three UEFA Champions Leagues, two UEFA Super Cups and two Club World Cups.
Ronaldinho
Ronaldo de Assis Moreira, commonly known as Ronaldinho or Ronaldinho Gaúcho, is a Brazilian footballer. His main playing position is as an attacking midfielder or forward. He won the FIFA World Player of the Year award in 2004 and 2005. Renowned for his skill, tricks, dribbling, overhead kicks, blind passes and free kicks, Ronaldinho is widely regarded to be one of the best footballers of his generation. "Ronaldinho", the diminutive and term of endearment for "Ronaldo", is accompanied in Brazilian usage by the nickname "Gaúcho", in order to distinguish him from fellow footballer and countryman Ronaldo, who was known as "Ronaldinho" in Brazil beforehand. Ronaldo simply went by his first name upon his move to Europe, thereby allowing Ronaldinho to drop the "Gaúcho" and go by the name Ronaldinho abroad. Ronaldinho has played 97 matches and scored 33 goals for the Brazil national football team. He was an integral part of the 2002 FIFA World Cup winning team, starring alongside Ronaldo and Rivaldo in an attacking trio, and was named in the FIFA World Cup All-Star Team. At club level, prior to his move to Atlético Mineiro, Ronaldinho played for Grêmio, Paris Saint-Germain, FC Barcelona, Milan and Flamengo. With Barcelona, he won the UEFA Champions League in 2006 and the Ballon d'Or in 2005. He became a Spanish citizen in January 2007. He was named to the FIFA 100, a list of the greatest footballers compiled by fellow countryman Pelé, and to the FIFPro World XI consecutively from 2004–2007.
Kaka
Ricardo Izecson dos Santos Leite, commonly known as Kaká or Ricardo Kaká, is a Brazilian football attacking midfielder who currently plays for Italian Serie A club Milan and the Brazilian national team. Kaká started his footballing career at the age of eight, when he began playing for a local club. At the time, he also played tennis, and it was not until he moved on to São Paulo FC and signed his first professional contract with the club at the age of 15 that he chose to focus on football. In 2003 he joined Milan for a fee of €8.5 million. While at Milan, Kaká won the Ballon d'Or and FIFA World Player of the Year awards in 2007. After his success with Milan, Kaká joined Real Madrid for a transfer fee of €65 million. At the time, this was the second highest transfer fee ever, behind only the €75 million fee for Zinedine Zidane. In addition to his contributions on the pitch, Kaká is known for his humanitarian work. In 2004, by the time of his appointment, he became the youngest ambassador of the UN World Food Programme. Kaká was the first sportsperson to amass 10 million followers on Twitter.
Diego Armando Maradona
Diego Armando Maradona Franco is an Argentine football manager, coach and former player. Many experts, football critics, former players, current players and football fans consider Maradona as the best football player of all time. He was joint FIFA Player of the 20th Century with Pelé. He is the only footballer to set world-record contract fees twice, firstly when transferring to Barcelona for a then world record £5m, and secondly, when transferred to Napoli for another record fee £6.9m. During his professional club career Maradona played for Argentinos Juniors, Boca Juniors, Barcelona, Napoli, Sevilla and Newell's Old Boys. At club level, he is most famous for his career in Napoli where he won numerous accolades. In his international career, playing for Argentina, he earned 91 caps and scored 34 goals. He played in four FIFA World Cup tournaments, including the 1986 tournament, where he captained Argentina and led them to their victory over West Germany in the final, winning the Golden Ball award as the tournament's best player. In that same tournament's quarterfinal round, he scored both goals in a 2–1 victory over England that entered football history, though for two different reasons. The first goal was via an unpenalized handball known as the "Hand of God", while the second goal followed a 60 m dribble past five England players, voted "The Goal of the Century" by FIFA.com voters in 2002.
Pelé
Pele, is almost universally regarded as the greatest player in the history of football. Born Edson Arantes do Nascimento in the Minas Gerais region of Brazil, Pele emerged on to the international stage at the 1958 World Cup, at the age of just 17. He went on to win three winners medals in football's most important tournament. Pele remains Brazil's record goal scorer and netted more than 1,000 goals in all during his career. Today he is a businessman and global ambassador for what he once called "the beautiful game". He was awarded the title Athlete of the Century by the International Olympic Committee.
Michelle Platini
Zinedine Zidane
Zinedine Yazid Zidane, nicknamed "Zizou", is an assistant coach and sporting director at Real Madrid, and a retired footballer who played as an attacking midfielder for the French national team, Juventus and Real Madrid. Renowned for his elegance, vision and technique, Zidane was named the best European footballer of the past 50 years by UEFA, and has been described as one of the greatest players in the history of the game. At club level Zidane won La Liga and the UEFA Champions League with Real Madrid, two Serie A league championships with Juventus and an Intercontinental Cup and a UEFA Super Cup each with both aforementioned sides. On the international stage Zidane won 1998 FIFA World Cup and Euro 2000 with France. Amongst his personal accolades Zidane has won the FIFA World Player of the Year three times, and the Ballon D'Or once. He was Ligue 1 Player of the Year in 1996, Serie A Footballer of the Year in 2001 and La Liga Best Foreign Player in 2002. He was awarded the Euro 2000 Player of the tournament and the 2006 FIFA World Cup Golden Ball. He retired from professional football after the 2006 World Cup.
Algunos buenos Técnicos
1. Pep Guardiola - (Bayern Munich)
2. José Mourinho - (Chelsea)
3. Marcelo Lippi - (Guangzhou Evergrande)
4. Arsene Wenger - (Arsenal)
5. Fabio Capello - (Selección de Rusia)
6. Carlo Ancelotti - (Real Madrid)
7. David Moyes - (Manchester United)
8. Gerardo Martino - (Barcelona)
9. Jurgen Klopp - (Borussia Dortmund)
10. Manuel Pellegrini - (Manchester City)