My "Welcome Spring" to-do-list
by zara alston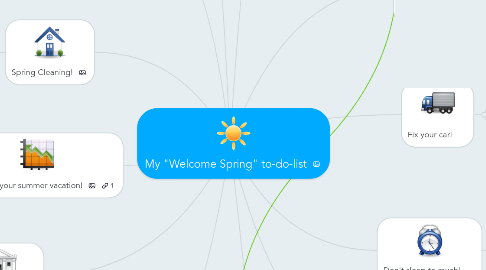 1. First of all, make a list!
1.1. Done!
2. Save some cash!
2.1. Save it in a separate bank account
2.2. Do not use them in any case!
3. Buy a whole new closet of spring clothes!
3.1. Go shopping and relax at the same time
3.2. Meet your friends in the mall
3.3. Get close with the new fashion trends
4. Fix your car!
4.1. Take longer trips!
4.2. Go visit your friend in other contries
4.3. Buy some new music for your car
4.4. Go to the sea coast
4.5. Meet strangers on your trips
5. Don't sleep to much!
5.1. Get up with the sun!
5.2. Drink your coffee on the terrace to feel the sun shining!
6. Get fit!
6.1. Join a dance class with a friend
6.2. Go jogging
6.3. Visit a yoga class
6.4. Buy a bicycle
7. Log out of Facebook and find some new friends!
8. Read your childhood's favourite book!
8.1. Find out some new ideas
8.2. Feel like a child again!
8.3. Laugh! A lot!
9. Take more wild photos with your friends!
9.1. Collect them in a special photo album
9.2. Write a little note to each of them
9.3. Say a special person you love him
10. Go sight-seenig!
10.1. In your home town
10.2. In the local areas
11. Plan earlier your summer vacation!
11.1. It's cheaper!
11.2. Invite your friends
11.3. Take your dog with you
12. Spring Cleaning!
12.1. Clean yourself
12.2. Clean with a friend
12.3. Listen to a crazy music during cleaning!
12.4. Or just book a home cleaning company!
13. Make some improvements in your home!
13.1. Buy a larger bed
13.2. Make place for some aroma candles
13.3. Grow a tree in your yard
14. LIVE! Smile!
14.1. Laughter is the music of life!