POETRY GENIUS Media Literacy Curriculum Planning Framework
by
The Media Spot, LLC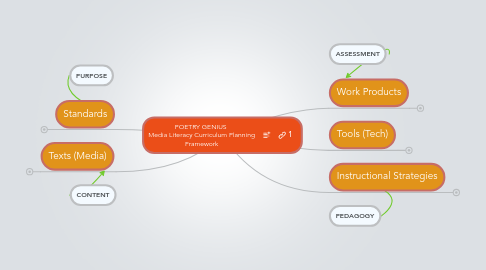 0.0
stars -
0
reviews range from
0
to
5
LEARNING COMMUNITY: Self: The Media Spot, Mr. Ramsey 10th Grade ELA, Ms. Joseph 10th grade ELA, Learners: TTHS CTE students at varying performance levels, Community: transitioning to new digital tools, Context: an intro activity to the computer labs -- trying to generate more face to face discussion around texts, while assessing students understanding of concepts through digital annotation. This framework was developed by Renee Hobbs at the URI Summer Institute on Digital Literacy in 2013.
Work Products
text based annotations
text/image annotation
suggestions that adds on a classmate's annotation
Instructional Strategies
Track students by "Nickname"
Show model in classroom
Have students start on paper
embed prompts and models into the "Class Pages" with poems & texts
Make "exit slip" assignments for annotations to assess students understanding of concepts
Use "suggestions" to build on each others' annotations
Connect poetry and short story devices to hip hop
Add a "Text" to your class page with questions, and have the students annotate (could be with video)
Have small groups focus on annotating chunks of the text, then have groups switch and add "suggestions" to others' chunks.
Have students use the group-annotated text as a resource for a follow-up writing assignment.
Tools (Tech)
student poetry genius accounts
computer lab
educator account at poetry genius
Standards
Media Literacy
Schoolwide Vision
Texts (Media)
Hawthorne: The Minister's Black Veil
Poe
Hayden Poems
Rap Lyrics
PURPOSE
ASSESSMENT
CONTENT
PEDAGOGY