My Whole Mind
by
Willem Broer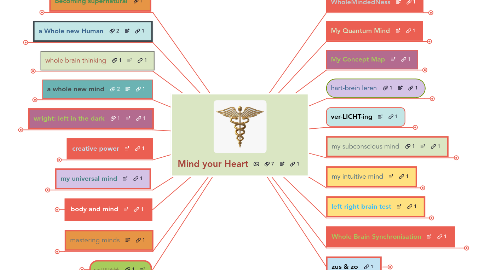 5.0
stars -
1
reviews range from
0
to
5
My Whole Mind is de Sleutel tot Creativiteit en de Ingang tot een Nieuwe Wereld. De Sleutel is de Rechterhersenhelft, verbonden door het Vierde Chakra met ons Hart.The heart provides the balance to the brain's calculating intellect, an innate system of emotional-mental coherence we have lost touch with. By activating the compassionate intelligence of the heart we can alter the destructive behavior loops of the survival-oriented reptilian brain, andenter into a future of peace and conscious evolution.Robotisering en Automatisering maken de weg vrij voor de Spelende Mens: eindelijk Verbeelding aan de Macht.Meesterschap en Spelen met Talent als Economische Factor.Hoe?zo! Creativiteit. Elk Talent kan op twee manieren worden gezien, Reactief en Creatief, omdat dat je Recht is. Het is je Recht over je Volle Vermogens te beschikken. Talenten en Scheppend Vermogen. Vul jouw mindmap met jouw Talent en Creativiteit, hier is een voorbeeld en een handleiding in pdf.Natuurlijk staat de klassieke Caduceus model. Niet te verwarren met de alom bekende Esculaap.Chakras en Kundalini geven energie aan de Staf.
This book argues that the differences lie not, as has been supposed, in the 'what' – which skills each hemisphere possesses – but in the 'how', the way in which each uses them, and to what end.  But, like the brain itself, the relationship between the hemispheres is not symmetrical.  The left hemisphere, though unaware of its dependence, could be thought of as an 'emissary' of the right hemisphere, valuable for taking on a role that the right hemisphere – the 'Master' – cannot itself afford to undertake.  However it turns out that the emissary has his own will, and secretly believes himself to be superior to the Master.  And he has the means to betray him.  What he doesn't realize is that in doing so he will also betray himself.
How reality is a projection of the dominant left hemisphere.If we are to believe the latest conclusions of Tony Wright(speaking above in a National Geographic documentary) the left brain hemisphere has not simply dominated a more passive right; rather, over time, it has changed our neurochemistry and neural structures to support its own ascent. In his new book, Left in the Dark, Wright argues that "humanity is suffering from species-wide brain damage" and this damage is the "root cause of our obvious insanity."
Waarom zouden ouderen vaker moeten hardlopen?Door prof. dr. Erik Scherder In het derde college in de serie van vijf een antwoord op de vraag: Waarom zouden ouderen vaker moeten hardlopen? Bewegen is goed voor je motoriek en je geheugen. Volgens professor Scherder zouden ouderen dan ook meer moeten worden gestimuleerd om te bewegen.Wil je meer weten?Als je enthousiast bent geworden, kun je bij Kennislink meer over dit onderwerp lezen.Meer beweging leidt tot een betere lichamelijke conditie. Al in 2006 bleek uit onderzoek dat meer bewegen ook goed is voor geestelijke conditie. Muizen die 's nachts in een loopwiel rondrennen maken meer nieuwe neuronen aan, hebben een beter leervermogen en een beter langetermijngeheugen dan muizen die geen beweging hebben. Lees verder.
In Ons creatieve brein toont Dick Swaab wat ons tot mensen maakt: de interactie van de hersenen met onze omgeving. De omgeving draagt niet alleen bij aan de unieke ontwikkeling van ieder brein, maar ook aan het ontstaan van hersenziekten en aan de genezing hiervan. Muziek en beeldende kunst zijn niet alleen creatieve vormen van communicatie, maar blijken ook van therapeutische waarde te kunnen zijn bij hersenziekten.
Marvin Minsky -- one of the fathers of computer science and cofounder of the Artificial Intelligence Laboratory at MIT -- gives a revolutionary answer to the age-old question: "How does the mind work?" Minsky brilliantly portrays the mind as a "society" of tiny components that are themselves mindless. Mirroring his theory, Minsky boldly casts The Society of Mind as an intellectual puzzle whose pieces are assembled along the way. Each chapter -- on a self-contained page -- corresponds to a piece in the puzzle. As the pages turn, a unified theory of the mind emerges, like a mosaic. Ingenious, amusing, and easy to read, The Society of Mind is an adventure in imagination.
My Whole Mind maakt gebruik van de charmante mogelijkheden van MindMeister. MindMeister is voor vele toepassingen geschikt, hier een leerproces, en feitelijk als metafoor voor elk proces. Interessant is de optie 'PDA', die geeft mogelijkheden tot begeleiding bij dat proces. Essentieel is ook de cirkel of spiraal, die linksom(yang) en rechtsom kan bewegen. MindMeister kent ongekende mogelijkheden: bijna alle digitale content kan worden opgenomen.Bij de knopen kan extra info worden ingezet: een notitie bij drie streepjes, bij een pijl een link, bij een paperclip allerlei documenten met video en audio middels sleur en pleur.Ook is bewust gekozen voor de Radiale benadering in de plaats van Lineair. Dat betekent meer zoeken en meer kans op Toeval.
Dig.Assistent maakt rolwisseling kinderspel. D.A. is een soort spiegel waarin je jezelf kan zien en opdrachten kunt geven. Met de Assistent ben je baas over jezelf. Hoe?zo! meesterschap.MindMeister is een mindmap als Digitale Asistent voor Persoonlijk Leiderschap. Je kunt Doelen Formuleren als in een Logboek en bijhouden wat je hebt gemaakt. Tegelijkertijd is het Doel de Weg en de Weg is het Doel, want mindmappen is van Hoe? en van Dat! Hoe? is het Spel(A#A) en Dat! zijn de Regels(A=A). Werken met een MindMeister is op zich al een OEfening in Meesterschap.Het pad markeert de Passage van Knecht tot Meesterschap: Zelfverantwoordelijke Zelfbepaling. Dat is de Sprong van het Pad, omdat dat je Recht is. Het is je Recht over je Volle Vermogens te beschikken. Talenten en Scheppend Vermogen. Het Pad geeft ook de Middelen, om die Passage mogelijk te maken. Opdracht 5: zet jouw Doelen in jouw mindmap als Persoonlijke Digitale Assistent, hier is een voorbeeld en een handleiding in pdf.
Een kwart is een breuk, met vier kwarten heb je weer een geheel(kwartet). 1/4, een vierde, daar kan je op twee manieren mee werken: concreet, ik heb, dan heb je dat stuk of abstract, wij zijn, dan ben je een van de vier. Het verschil is de manier van denken.En een breuk is een bijzonder getal: het is ook weer te geven als kommagetal(0,25) en ook als procent(25%). Met Equivalent Pairs kun je oefenen. Klik hier voor meer rekensommen.Als deel van een groter geheel is de breuk een verhouding, een ratio, 1 van 4, 1:4, 1 op 4. Een wel heel bijzondere ratio is Phi wel: The Golden Ratio en The Divine Code.Een getal voor Schoonheid,Creatie en Balans 38 van 62, 38:62, 38 op 62.Een Breuk is een Verhouding is een Ratio: wij staan altijd in een verhouDing, als Deel van een Geheel.Het Pad markeert de Passage van Ding tot Verhouding. Het Pad geeft ook de Media om die Passage mogelijk te maken. Met de pijl(>) spring je in de map 'Geometrie'.Opdracht 4: maak een Overzicht in jouw mindmap van welke Gehelen jij een Deel bent, hier is een voorbeeld en een handleiding in pdf.
Left in the Dark byTony Wright, Graham Gynn(Goodreads Author) 'This is a totally new way of looking at the evolution of the human brain. It is so totally fresh, unexpected and hitherto un-thought-of that it will probably take a long time before evolutionary anthropologists and psychologists begin to take it on board; but it will make an impact, of that there is no doubt. It will be, it must be, taken very seriously in any discussion of human origins.'