Martin Luther King December 19 1899-November 11 1984
by eric enriquez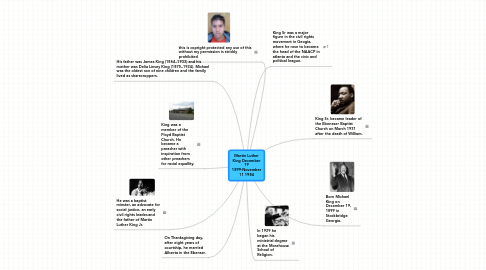 1. Born Michael King on December 19, 1899 in Stockbridge Georgia.
2. He was a baptist minster, an advocate for social justice, an early civil rights leader,and the father of Martin Luther King Jr.
3. On Thanksgiving day, after eight years of courtship, he married Alberta in the Ebenser.
4. King Sr. became leader of the Ebeneser Baptist Church on March 1931 after the death of William.
5. In 1929 he began his ministrial degree at the Morehouse School of Religion.
6. King was a member of the Floyd Baptist Church. He became a preacher with inspiration from other preachers for racial equallity.
7. King Sr was a major figure in the civil rights movement in Geogia, where he rose to become the head of the NAACP in atlanta and the civic and political league.
8. His father was James King (1864–1933) and his mother was Delia Linsey King (1875–1924). Michael was the oldest son of nine children and the family lived as sharecroppers.
9. this is copright protected any use of this without my permission is strickly prohibited