Copy of Prior Day's (Friday) Close = 1,832
by Carl Weiss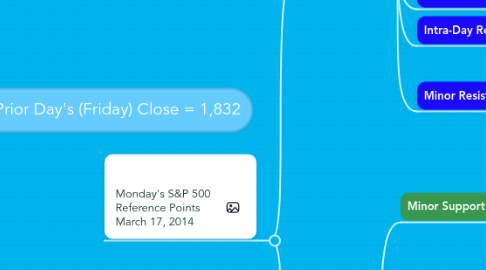 1. Monday's S&P 500 Reference Points March 17, 2014
1.1. Resistance
1.1.1. How To Sell Resistance
1.1.2. Maximum Likely Expectation
1.1.2.1. N\A
1.1.3. Major Resistance
1.1.3.1. 1,885 1,887
1.1.3.1.1. Record High
1.1.4. Near Term Resistance
1.1.4.1. 1,860
1.1.4.1.1. Thursday's High
1.1.5. Intra-Day Resistance
1.1.5.1. 1,852
1.1.6. Minor Resistance
1.1.6.1. 1,846
1.1.6.1.1. In the event of a break-out above minor resistance, the short positions must be managed: covered or stopped out, at your discretion. The trader then has the options to adapt the trading strategy and buying the pull-back with the expectation that price will auction up to the next resistance level.
1.2. Support
1.2.1. Minor Support
1.2.1.1. 1,824 - 1,822
1.2.1.1.1. Buy the Pull-back at or near 1,824.
1.2.2. Maximum Likelihood Estimate
1.2.2.1. 1,816 - 1,817
1.2.2.1.1. Ideal Entry
1.2.3. Major Support
1.2.3.1. Extreme Price Excursion
1.2.3.1.1. 1,800
1.2.4. How To Buy Support