Workflow for 3/18: Goal: to Complete a Prototype of a TEXTUAL solution
by Evan Wolkenstein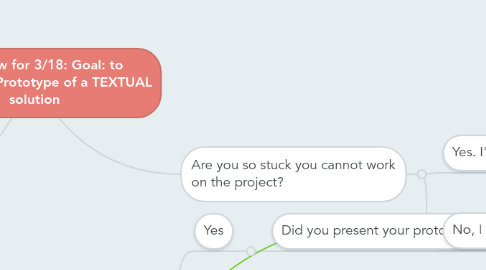 1. Did you complete the prototype for the real world situation?
1.1. Yes
1.1.1. Did you present your prototype for feedback?
1.1.1.1. Yes
1.1.1.1.1. Have you edited your prototype, using the 2-4 feedback-nuggets you heard from other students presenting??
1.1.1.2. No
1.1.1.2.1. 1. Put your name on the board for a chevruta. 2. Present your prototype 3. Listen to feedback - get 3 pieces of feedback to change, add, etc 4. Make adjustments
1.2. No
1.2.1. Work on the rough draft prototype: http://tinyurl.com/pitchprojectroughdraft 1. 2-4 sketches or 2. An itinerary / timeline or 3. A detailed outline Be sure it includes evidence of your research by labeling or making notes
2. Are you so stuck you cannot work on the project?
2.1. Yes. I'm stuck.
2.1.1. Anchorwork: Shmuel 3a3b tinyurl.com/shmuel3a3b 1. comprehension 2.discussion 3. appendix.
2.2. No, I can work on it.