Parts of Speech
by
Leah Thiede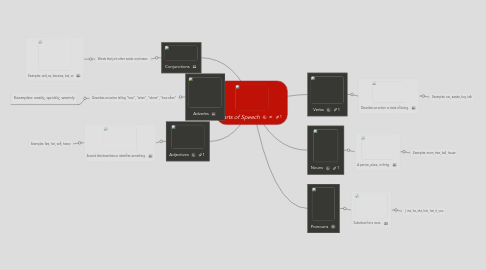 5.0
stars -
1
reviews range from
0
to
5
RF.K2.1a: Identify organizartional features of a sentence.RF. K2. 4a: Activiely participate in supported grade-level, age-appropriate, adapted skills
Describes an action or state of being.
Examples: run, awake, buy, talk
A person, place, or thing.
Examples: mom, tree, ball, house
Pronouns
Substitute for a noun.
I, me, he, she, him, her, it, you
A word that describes or identifies something.
Examples: fast, hot, soft, heavy
Conjunctions
Words that join other words or phrases.
Examples: and, as, because, but, or
Adverbs
Describes an action telling "how", "when", "where", "how often"
Examples: easily, quickly, warmly