Gordon Ridgeway
by
Gordon Ridgeway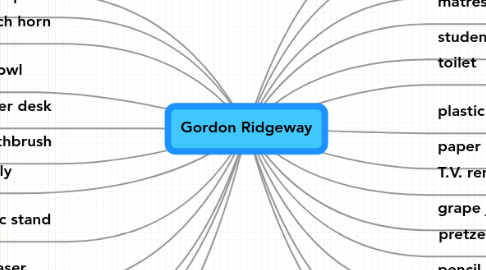 5.0
stars -
1
reviews range from
0
to
5
Gordon Ridgeway
batteries
lithium
one month, I could buy rechargable batteries instead.
mouthpiece
iron
5 years, Use it as a funnel for liquids.
pencil
trees
3 weeks, I wouldn't sharpen it unless I absolutely need to.
plastic cup
oil
1 day, Instead of throwing out, I can wash it and use it again.
student i.d.
oil
one year, Use the lanyerd for a different badge.
bowl
clay
5 years, Once its broken, I can shatter it and use the pieces for decorations.
grape juice
grape vines
6 days, Use the bottle to water indoor plants.
music stand
iron
10 years, Once I'm done with it, I could cut off the top and use it as a tray.
plastic spoon
oil
1 day, Instead of throwing it out, I could wash it and use it again.
computer desk
trees
10 years, Take apart wood and make something else.
paper
trees
3 days, Use leftover space for lists or memos.
toothbrush
oil
3 months, Once its old, I can use it to brush my dog's teeth.
toilet
clay
30 years, Don't flush every time.
T.V. remote
oil
5 years, Program for a new t.v. and reuse
jelly
grape vines
1 months, Use the can to store pecils.
matress
cotton
20 years, Send it to Haiti.
french horn
brass
15 years, I always take good care of it.
pretzels
wheat
1 week, Use can/jar as a planter.
eraser
oil
2 months, Instead of buying a whole new eraser I could just use the back of a pencil.
printer
oil
8 years, I refill the ink cartridges to avoid buying a new one.
couch
cotton
10 years, Reupholster and use again, saving the same wood.
shampoo
water
2 months, Water down so I could use less actual shampoo each time.
plastic wrapper
oil
1 day, Use it to pick up pet waste
potato chips
potatoes
1 week, Use the bag to hold miscellaneous items.
scissors
iron
2 years, Sharpen blade and use again
toothpaste
fluoride
1 year, I don't really need it to brush my teeth, so I don't have to use it at all.