Andrew Vera's Eco-Web
by
Andrew Vera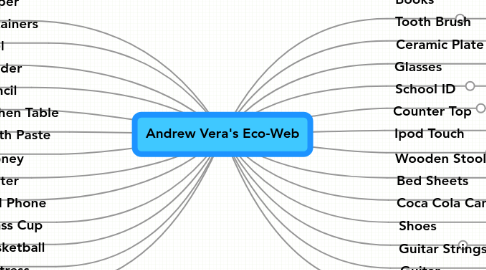 0.0
stars - reviews range from
0
to
5
Andrew Vera's Eco-Web
Tooth Brush
Oil
4 Months, Wash it off more thoroughly each time I brush so it will stay cleaner for longer.
Guitar
Trees
3 Years, Use the guitar as a bird house.
Guitar Strings
Copper
3 Years, Reuse them on another guitar.
Counter Top
Granite
7 Years, Install it into another families house, like my grandparents.
Shoes
Oil
2 Months, Instead of buying new ones when they rip, glue it back together and wait longer to get another pair.
Coca Cola Cans
Aluminum
1 Day, Instead of buying cans, buy liters of sodas.
Bed Sheets
Cotton
3 Months, Use as a blanket for a pet.
Wooden Stool
Trees
5 Months, Use as fire wood instead cutting down trees.
Ipod Touch
Oil
2 Years, Don't waste the battery, and make it last longer than two years.
School ID
Oil
8 Months, Instead of throwing it out, use it as an ID in my wallet.
Glasses
Sand and Iron
6 Months, Instead of changing the lenses everytime I run out of contacts, change it every four time I get now contacts.
Ceramic Plate
Clay
15 Years, Give them to my grandparents so they can use them for a long time too.
Books
Trees
1 Month, Sell at yard sale or donate to a school or library.
Tooth Paste
Flouride
3 Months, Get a big tube of paste instead of buying a bunch of smaller ones.
Money
Trees
1 Day, Use a debit card instead of money.
Water
Water
1 Day, Drink filtered tap water instead of buying bottles.
Cell Phone
Oil
2 Years, When I want to buy a new one, recycle the cell phone, and the company can use it again.
Glass Cup
Sand
5 Years, Make it into a window.
Basketball
Oil
3 Years, Donate to Toys for Tots.
Matress
Cotton
10 Years, Use for another bed in the house.
Kitchen Table
Trees
3 Years, Take apart and build a dog house.
Pencil
Trees
1 Week, Instead of buying wood pencils, buy lead pencils.
Binder
Oil
8 Months, Get one big binder instead of 7 smaller binders.
Gel
Oil
1 Year, Use small amounts of it.
Retainers
Oil
50 Years, Don't replace them, just wash them off.
Paper
Trees
1 Day, Write on the computer, not on paper.