ISACA® CGEIT® study guide mind map
by
Mirosław Dąbrowski, COO, Agile&IT Coach, Trainer, Consultant, Product Owner, Entrepreneur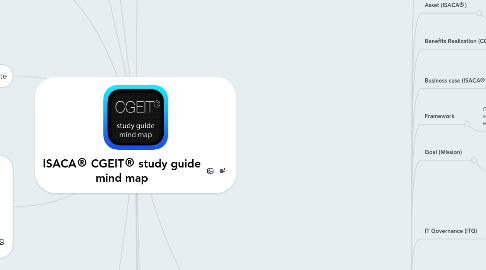 5.0
stars -
49
reviews range from
0
to
5
ISACA® CGEIT® study guide mind map
ISACA® is a registered trademark of Information Systems Audit and Control Association. CISA®, Certified Information Systems Auditor®, CISM®, CGEIT®, Certified in the Governance of Enterprise IT/CGEIT® (and design)®, COBIT® are registered trademarks of ISACA®. CRISC™, Certified in Risk and Information Systems Control™, Certified Information Security Manager™, Risk IT™, Val IT™ are trademarks of ISACA®. Trademarks are properties of the holders, who are not affiliated with mind map author.
The job profile of the CGEIT® (Certified in the Governance of Enterprise IT) published in 2008 is the consistent enhancement of the initiative started in the area of IT governance: at that time, the IT Governance Institute was founded and the first COBIT® version published as a synthesis of more than 30 national and international standards. The manifold, since then published ITGI documents, covering all aspects of IT governance, as well as the numerous certified CGEIT®s reflect the relevance of the consistent expansion of governance in information technology.
Covers
Designation
The CGEIT® job profile was first published in 2008, and CGEIT® job description has been adapted for the exam in 2013.
Overview of the CGEIT® certification
About the CGEIT® exam
Domain 1: Framework for the Governance of Enterprise IT
Benefits of IT Governance (ITG)
IT Governance (ITG)
9 Rules for Better Governance
Techniques for IT Strategy
Enterprise Architecture
3 Key things to establishing a Framework
4 Types of changes
Standards related to Governance of Enterprise IT (GEIT) (selected)
Standards related to Management of Enterprise IT (a.k.a. "forest of methodologies, standards, frameworks")
Basic IT Governance (ITG) related definitions (from ISACA® CGEIT® perspective)
Accountability
Asset (ISACA®)
Benefits Realization (COBIT® 5)
Business case (ISACA®)
Framework
Goal (Mission)
IT Governance (ITG)
Objectives (milestones)
Portfolio (ISACA®)
Portfolio Management (ISACA®)
Practice
Project (ISACA®)
Risk
Standard
Strategy
Value (ISACA®)
Value creation (COBIT® 5)
Value delivery
Vision
Domain 2: Strategic Management
Alignment between business and IT
Strategic planning processes and techniques
Impact of changes in business strategy on IT Strategy
Barriers to the achievement of strategic alignment
Policies and procedures necessary to support IT and business strategic alignment
Methods to document and communicate IT strategic planning processes
Current and future technologies
Prioritization processes related to IT initiatives
Scope, objectives and benefits of IT investment programs & projects
Benchmarking
Project Management tools and techniques (non-exhaustive list)
6 methods to cascade business and IT objectives to key personnel
Strategic Alignment and Roles
Domain 3: Benefits Realization
Domain 3 - CGEIT® Exam Relevance
Lack of Benefits Realization
Enterprise Governance of IT Focus Areas
Val IT Framework
Value Governance Practices
Investment Management
Portfolio Management
The Business Case
7 Best Practices for Systems Development
Domain 4: Risk Optimization
Risk Management
Asset risk
Hazard risk
Strategic risk
Risk Hierarchy - 4 Levels of Risk
3 domains in the Risk IT framework
IT Risk in the Risk Hierarchy (from ISACA® Risk IT™ perspective)
Three IT Risk Categories (from ISACA® Risk IT™ perspective)
3 basic types of SLAs (based on ITIL®)
IT services sourcing models
Availability Management
Domain 5: Resource Optimization
Domain 5 - CGEIT® Exam Relevance
Resource Management
4 Critical IT Resources
IT Provisioning
Human Resource Management (HRM)
Value of Human Resources
7 key factors to increase productivity and help reduce IT staff turnover
Cost-benefit Analysis (CBA)
Nonfinancial Cost Benefit Analysis (nCBA)
Roles and Responsibilities
Board
Chief Executive Officer (CEO)
Chief Financial Officer (CFO)
Chief Risk Officer (CRO)
Chief Security Officer (CSO)
Chief Operating Officer (COO)
Chief Information Officer (CIO)
Chief Information Risk Officer (CIRO)
Chief Information Security Officer (CISO)
Business Executive
Business Process Owner
Strategy Committee (IT Executive)
IT Sterring Commitee
Project and Programme Steering Committees
Architecture Board
Enterprise Risk Committee
Head of HR
Compliance
Audit
Head of Architecture
Head of Development
Head of IT Operations
Head of IT Administration
Programme and Project Management Office (PMO)
Value Management Office (VMO)
Service Manager
CGEIT® Official website
http://www.isaca.org/Certification/CGEIT-Certified-in-the-Governance-of-Enterprise-IT/Pages/default.aspx
Official Recommended exam study materials
Glossary
Development Guides
ISACA® CGEIT® Review Manual 2015
ISACA® CGEIT® Review Questions, Answers & Explanations Manual 2015 Supplement
Interactive Glossary
This freeware mind map (aligned with the newest version of CGEIT® exam) was carefully hand crafted with passion and love for learning and constant improvement as well for promotion the CGEIT® qualification and as a learning tool for candidates wanting to gain CGEIT® qualification. (please share, like and give feedback - your feedback and comments are my main motivation for further elaboration. THX!)