TWC301 - Technical Writing
by
Michael Poulos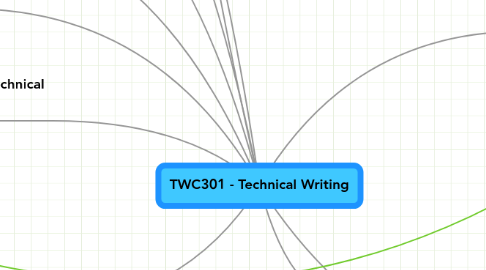 0.0
stars - reviews range from
0
to
5
TWC301 - Technical Writing
Genres of Technical Writing
memos
emails
manuals
informal/formal reports
internal/external information
presentations
Categories of Technical Communcation
rhetorical
audience centered
technology oriented
ethical
research oriented
professional design centered
visual
concise
New node
Producing Technical Writing
planning
organizing
drafting
designing
integrating
revising
editing
testing
5 Contents by Topic
Design and Visuals
Research and Documentation
Digital Tips
Presentations and Meetings
Correspondence
New node
Problem Solving Approach PSA (Chapter 2)
Purpose of documents
inform
define
explain
propose
convince
Notes from Handbook (Chapter 3)
Netiquette
Do not use an email address related to your hobby. i.e. yogagirl@yahoo.com.  
Logs
Always be certain not to write anything that may come back to haunt you as depending on legal circumstances, companies can be compelled to provide email and instant messaging logs in a court of law.
Web Design
Work with a Webmaster or site administrator to optimize your site for speed of access and to maintain technical and design standards.
Business Writing Ethics (Chapter 4)
Organizing and Drafting (Chapter 7)
classification
The process of classification is the groping of a number of units (such as people, objects, or ideas) into related categories.
chronological
A method of development arranges the events under discussion in sequential order, emphasizing time as it beings the first event and continuous chronological to the last.
electronic templates and wizards
Most word processing programs, you can create styles-sets of formatting characteristics for text elements such as heading, paragraphs, and list - that allow you automate much of the formatting of your report.
Technical Communication in a Transnational World (Chapter 5)
Internationalization
The prevalence of global communication technology and international markets means that the ability to communicate with audiences from varied cultural backgrounds is essential.
Visuals
Symbols, images, and even colors are not free from cultural associations 0 they depend on context and context is culturally determined. For instance, in north America, a red cross is commonly used as symbol for first aid or a hospital. In Muslim countries, however a cross (or otherwise) represents Christianity, where as a crescent (usually green) signifies first aid or a hospital.
Tone
In writing in for international correspondence, understand that far more cultures are generally indirect in business  messages than are direct.