Portfolio, Programme and Project (P3O®) Offices study guide mind map
by
Mirosław Dąbrowski, COO, Agile&IT Coach, Trainer, Consultant, Product Owner, Entrepreneur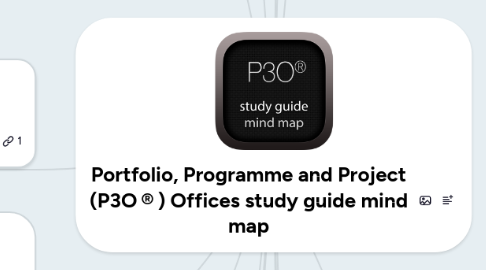 5.0
stars -
36
reviews range from
0
to
5
Portfolio, Programme and Project (P3O®) Offices study guide mind map
P3O® is a registered trademark of AXELOS Limited. P3O® logo courtesy of the AXELOS Limited. Trademarks are properties of the holders, who are not affiliated with mind map author.
P3O® - standard, framework, model and body of knowledge (not methodology or mthod) for general (not industry specific e.g. IT) Project, Programme, Portfolio Offices. P3O® provides a decision enabling/delivery support structure for all change within an organisation. P3O® is one of the 12 recognized globally and practically proven management standards from AXELOS® Global Best Practice family of UK standards.
P3O® v1 was published in 28.10.2008.
P3O® v2 was published in 2013.
How P3O® fits into AXELOS® Global Best Practices family of UK standards.
AXELOS® Global Best Practices family of standards from UK.
Since 2000 the Office of Government Commerce (OGC), former owner of PRINCE2® (and other Best Management Practices) has been the custodian of the portfolio on behalf of UKG. In June 2010 as a result of UKG reorganisation the Minister for the Cabinet Office announced that the PRINCE2® functions have moved into Cabinet Office.
P3O® Principles for Extracting Value (6)
What are principles?
1. Govern Effectively
2. Hold people to account
3. Prioritise investment, align and adjust to business strategy
4. Safeguard value
5. Invest in people and process
6. Track progress through highlight and exception based reporting
P3O® Models (5)
Model are not to be used "as it is".
P3O® Model
P3O® means "Offices" for P3. The Centre of Excellence (CoE) also known as Centre of Competence is a special type of office.
Organization Portfolio Office Model
Hub and Spoke Model
Temporary Office Model
Virtual Office Model
Small Organization Model
Large organization P3O Model
Mature P3O® models provide:
P3O® Definition Activities (6)
1. Establish the implementation team
2. Identify and analyse stakeholders
3. Refine the vision statement
4. Develop the P3O blueprint
5. Develop, model and validate the benefits
7. Plan stages or tranches of delivery
P3O® Roles and Responsibilities (21)
Management Roles
Generic roles
Functional roles
P3O® Official publications
Copyright © AXELOS Limited.
Portfolio, Programme and Project Offices
P3O® Official resources
Copyright © AXELOS Limited.
P3O® sample exams, available online
P3O® examination syllabus
P3O® glossary
P3O® White Papers
P3O® website
P3O® Tools
Tools can be used in the following ways:
8 Key strategic benefits of Using Tools & Techniques
P3O® Tools (divided by categories)
P3O® Techniques (11)
Project Complexity Modelling
Management Dashboards
Knowledge Management
P3O® Information Portal
Facilitated Workshops
Skills Development & Maintenance
Business Process Swimlanes
Capacity Planning for Resource Management
Assurance, Gated Reviews and Healthchecks
Tailoring of Approaches
Portfolio Prioritization and Optimization
Basic Definitions (according to AXELOS®)
Portfolios / Programme / Project Management
Project / Programme / Portfolios
Output, Capability, Outcome, Benefits
P3O®
Interactive P3O® Glossary
This freeware, non-commercial mind map (aligned with the newest version of P3O®) was carefully hand crafted with passion and love for learning and constant improvement as well for promotion the standard, model and framework P3O® and as a learning tool for candidates wanting to gain P3O® qualification. (please share, like and give feedback - your feedback and comments are my main motivation for further elaboration. THX!)
P3O® KPIs (examples)
Reduced benefits loss, % increase in actual portfolio benefits delivered (rather than planned benefits).
Fewer programmes and projects started for the wrong reasons - number of projects stopped.
Organisational P3RM Maturity level of 3 (or more) by target date.
Predictability of delivery - % increase in number of programmes and projects delivering to time.
Predictability of cost - % decrease in cost overruns on programmes and projects.
Reduction in overall resource costs to deliver the portfolio.
Reduced staff turnover and subsequent reduction in recruitment and training costs.
Happy scale - increased customer satisfaction scores.
Reduced number of programmes and projects scoring amber or red on gated reviews.
Increased overall P3RM skills score of programme and project management community.