Management of Portfolios (MoP®) study guide mind map
by
Mirosław Dąbrowski, COO, Agile&IT Coach, Trainer, Consultant, Product Owner, Entrepreneur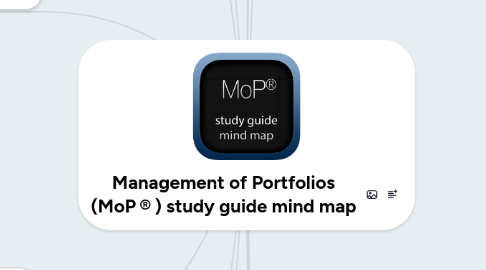 5.0
stars -
45
reviews range from
0
to
5
Management of Portfolios (MoP®) study guide mind map
MoP® is a registered trademark of AXELOS Limited. MoP® logo courtesy of the AXELOS Limited. Trademarks are properties of the holders, who are not affiliated with mind map author.
Steps in a evolutionary implementation of MoP® (7)
1. Obtain a single, complete view of the organization's portfolio of change initiatives - inc. costs, benefits, schedule, risks and performance to date
2. Complete a portfolio delivery plan and monitor progress against it on a regular basis
3. Start tracking completed programme and project performance compared to forecast and use this in initiative forecasting
4. Review the current portfolio and identify dependencies - not only those where one initiative is dependent on the output of another, but also where several initiatives make calls upon a limited resource
5. Establish clear governance structures so that stakeholders understand where decisions are made and using what criteria
6. Define a standard set of investment criteria including attractiveness / return and achievability / risk in terms of the incremental impact on the existing portfolio, to be used to appraise and prioritize initiatives
7. Apply staged release of funding linked to stage / phase gates
MoP® Official resources
Copyright © AXELOS Limited.
MoP® sample exams, available online
MoP® examination syllabus
MoP® glossary
MoP® website
MoP® Official publications
Copyright © AXELOS Limited.
Management of Portfolios
An Executive Guide to Portfolio Management
MoP® - process based standard and framework (not methodology) for general (not industry specific e.g. IT or Engineering) corporate-wide / holistic Portfolio Management. MoP® is one of the 12 recognized globally and practically proven management standards from AXELOS® Global Best Practice family of UK standards.
MoP® first and current version was published in 02.2011.
How MoP® fits into AXELOS® Global Best Practices family of UK standards.
AXELOS® Global Best Practices family of standards from UK.
Since 2000 the Office of Government Commerce (OGC), former owner of PRINCE2® (and other Best Management Practices) has been the custodian of the portfolio on behalf of UKG. In June 2010 as a result of UKG reorganisation the Minister for the Cabinet Office announced that the PRINCE2® functions have moved into Cabinet Office.
MoP® Portfolio Management Principles (5)
What are principles?
1. Senior Management Commitment
2. Governance Alignment
3. Strategy Alignment
4. Portfolio Office
5. Energized Change Culture
MoP® Portfolio Management Cycles (2)
Portfolio management does not have a mandated start point, middle or end, rather all practices are found within two continuous portfolio management cycles: the portfolio definition cycle and portfolio delivery cycle.
Both Cycles must continuously rotate because planning and delivery are constant activities in PfM.
Both Cycles contain the totality of all PfM Practices.
The Cycles can only rotate successfully when the collective energy of the people within the organisation is directed and managed in effectively.
Portfolio Definition Cycle
Portfolio Delivery Cycle
MoP® Portfolio Practices (12)
MoP® Portfolio Definition Cycle Practices (5)
MoP® Portfolio Delivery Cycle Practices (7)
MoP® Roles and Responsibilities (5)
Portfolio Direction Group or Investment Committee (PDG/IC)
Portfolio Progress Group (PPG) or Change Delivery Commitee (CDC)
Business Change Director or Portfolio Director
Portfolio Manager
Portfolio Benefits Manager
Approaches to implementing portfolio management (3)
There is no one right way to implement portfolio management – it all depends on the circumstances
Big bang
Evolution
Ad hoc
Objectives of Portfolio Management
1. The change initiatives that are being delivered (and those in the development pipeline) represent the optimum allocation of resources in the context of the organization's strategic objectives, available resources, and risk or achievability.
2. The portfolio is sufficient to achieve the desired contribution to strategic objectives.
3. All initiatives are necessary to achieve the desired contribution to strategic objectives.
4. The selected change initiatives are delivered effectively and cost efficiently.
5. All the potential benefits are realized.
Benefits of Portfolio Management
1. More of the 'right' programmes and projects being undertaken in terms of: greater financial benefits and measurable contribution to strategic objectives.
2. Removal of redundant & duplicate initiatives.
3. More effective implementation of programmes and projects via management of the project development pipeline, dependencies, and constraints (including resources, skills, infrastructure, change appetite, etc.) and redirecting resources when programmes and projects do not deliver or are no longer making a sufficient strategic contribution.
4. More efficient resource utilization.
5. Greater benefits realization via active approaches to exploitation of the capacity and capability created across the organization, capturing and disseminating lessons learnt.
6. Enhanced transparency, accountability and corporate governance - and assurance on consistent and competent programme and project management.
7. Improved engagement and communication between relevant stakeholders in communicating strategic objectives, and the means by which they will be achieved.
8. Improved awareness of aggregated risks.
9. The benefits from senior managers engaging in debate on the contents of the portfolio.
10. Improved cross-organizational collaboration in pursuit of shared goals.
MoP® Portfolio Management Key Functions / Activities (6)
The 6 key functions/activities that Portfolio Management needs to coordinate with to achieve strategic objectives
1. Business As Usual (BaU)
2. Strategic/Business planning
3. Budgeting and resource allocation
4. Programme and project management
5. Performance management
6. Corporate governance
MoP® Products (Portfolio Documentation) (9)
Portfolio Management Framework
Portfolio Strategy
Portfolio Delivery Plan
Portfolio Benefits Management Framework
Portfolio Benefits Realization Plan
Portfolio Financial Plan
Portfolio Resource Schedule
Portfolio Stakeholder Engagement and Communication Plan
Portfolio Dashboard
Basic Definitions (according to AXELOS®)
Portfolios / Programme / Project Management
Project / Programme / Portfolios
Output, Capability, Outcome, Benefits
Interactive MoP® Glossary
This freeware, non-commercial mind map (aligned with the newest version of MoP®) was carefully hand crafted with passion and love for learning and constant improvement as well for promotion the standard and framework MoP® and as a learning tool for candidates wanting to gain MoP® qualification. (please share, like and give feedback - your feedback and comments are my main motivation for further elaboration. THX!)
Organisational Energy (4)
Organisational Energy represents the collective effort, motivation, teamwork, management and leadership that is critical in order to keep the PfM Cycles rotating.
A focus on Organisational Energy links to the human side of change and hence Change Management.
Connection
Content
Context
Climate
MoP® Lite Techniques (9)
Driver-based strategic contribution assessment
Three-point estimating and reference class forecasting
Multi-criteria analysis
Decision-conferencing
Staged release of funding
One version of truth reporting
The champion-challenger model
Clear line of sight planning and reporting
Management by exception