Chapter 2: Tech. Infrastructure
by
Sean K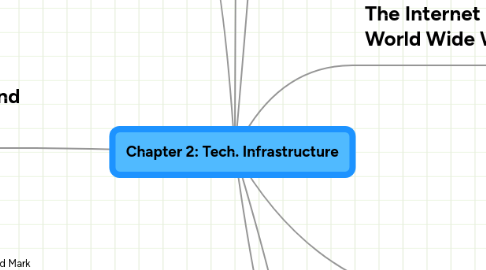 0.0
stars -
0
reviews range from
0
to
5
Chapter 2: Tech. Infrastructure
The Internet and the World Wide Web
Origins
Growth of the Internet
Emergenece of the World Wide Web
Key Definitions
Internet
Computer Network
Web
Network access provider
Hypertext Server
Web Server
Web browser
Local area network
Wide area network
Circuit
Internet backbone
Subnetting
Simple Main Transfer Protocol
Post Office Protocol
Opening tag
Closing tag
Leased Line
Packet-switched Networks
A network in which packets are labelled electronically with their origin, sequence, and destination access. Packets travel from one computer to another along the interconnected networks until they reach their destination.
As single packets travel from one network to another, the computers through which they travel determines the best route for getting them to their destination. Can be done through:
Markup Language and the Web
Standard Generalized Mark up Language (SGML)
Hypertext mark-up Language (HTML)
Extensible mark-up Language (XML)
HTML and XML editors
Internet Protocols
Protocols determine how the sending sevice indicates that it has finished sending a message, and how the receiving device indicates that it has received the message.
TCP/IP
IP Addressing
Domain Names
Web page Request and Delivery protocols
Email protocols
Unsolicited Comm- ercial Email
Intranets and Extranets
Intranet
Extranet
Public and Private Networks
Virtual Private Network (VPN)
Key Definitions Con't
IP tunneling
Encapsulation
Bandwidth
Internet2
Semantic Web
Internet Connection Options
Broadband connections
Leased-line connections
Wireless connections