Mobile Apps
by Ashton Riegel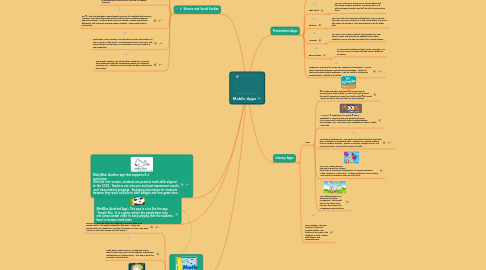 1. MathRun (Android App): This app is a lot like the app Temple Run. It is a game where the panda beer runs and jumps and in order to keep playing that the students have to answer math facts.
2. MobyMax: Another app that supports K-8 curriculum. With the free version, students can practice math skills aligned to the CCSS. Teachers can view pre and post assessment results and view student progress. Engaging experience for students because they work on skills to earn badges and free game time.
3. Science and Social Studies
3.1. Tiki Toki:Google App that allows students to create interactive & 3D timelines
3.2. TimeMaps: View historical maps to help understand world history. Can search from 3500BC to present. Markers help present historical information
3.3. Khan Academy: App that provides viewers lessons on science, math, and social studies content. Can be used as supplemental resources or a source for flipped learning.
3.4. CK-12: App that provides STEM aligned resources for students and teachers. Teachers can create flex textbooks for students from included resources and web material. Students have access to articles, quizzes, simulations, flashcards, and videos to practice science content. Some useful history content,too.
3.5. World Data Atlas: Google App atlas that provides information on every country in the world. From demographics to currency, and crime statistics to land use, any information you may need is at your fingertips.
3.6. Geography Puzzles: App which allows students to practice their geography skills by assembling puzzles of continents, countries, etc. Students can choose the number of pieces for the puzzles.
4. Mathematic Apps
4.1. ScootPad: This app allows for students to practice skills in all content areas. The math is aligned to the CCSS. There are opportunities for students to practice for mastery at their own pace. There is a cost, but reviews say well worth it
4.2. Math Bingo: Math Bingo is a timed app where kids choose if they want to do addition, subtraction, multiplication or division facts. This app is great for repetition of math facts.
4.3. Splash Math: Splash Math is a great app where students can choose which topic/skill to work on. The app that I have is just a preview but you can buy the full app and I think it would be well worth the money.
4.4. Splash Math: This app is available for each individual grades for kindergarten through 5th. Each app covers over hundreds of math skills for that grade level. You can create a student profile and it will track their progress as they work through the app.
5. Literacy Apps
5.1. Apps
5.1.1. 5th Grade Friendzy: Kids learn 5th Grade lessons playing alone, with friends, or with other kids around the world. Parents can view their child's Fifth (5th) Grade scores as well as the time they've spent playing.
5.1.2. L. Arts Gr. 5: Language Arts Grade 5 app is available for Adroid, apple and windows devices. It is an app used to depend students understanding of Language Arts. This app is also available is Science, Health and Math.
5.1.3. Vocabulary/Spelling City: Interactive app where students can build their vocabulary and spelling skills. Teachers can upload spelling lists for student practice. Option to pretest, practice words, and numerous games to help with mastery of skills.
5.1.4. ABC Lite: Pocket Phonics- This app is great for a lower level such as preschool, kindergarten or special education if the student is on this level. It allows students to trace letters and sound out words in order to spell them.
5.1.5. ABC Balloon letters is a great app for letter recognition. This would also be for lower level learners but is great for recognizing certain letters.
5.2. HMH Readers: This app contains a library of leveled readers. The books can be read to the students as well. It helps with fluency and comprehension.
6. Presentation Apps
6.1. Screen Chomp
6.1.1. This app is like Smart Notebook. You can record anything that is written on the screen along with any pictures that are imported in. While recording your sketches it records your voice too. The video is saved within the app or you can share it. Great idea for a flipped classroom or absent student.
6.2. Slide Shark
6.2.1. You can upload any Power Point presentations that have been saved in Dropbox, OneDrive, Box, and other storage providers and still be able to manipulate them.
6.3. ShowMe
6.3.1. This also is like an interactive whiteboard. You can record the same as Screen Chomp. It is also saved within the app or the option of sharing it. This app appears to be for older kids.
6.4. Animoto
6.4.1. You can create a video with the photos saved on your device. Music and text can be applied to the video. Students can use this app to create short, simple videos.
6.5. EduCreations
6.5.1. An interactive whiteboard that can be recorded. You can share your recording through email, Facebook, or Twitter.
6.6. HaikuDeck: App used to create fun, seamless presentations. Can be used in personal, business, and educational settings. Ability to share and embed within webpages. Can be used for students to present ideas or digital storytelling.