Public Administration
by
Karen Quinn Fung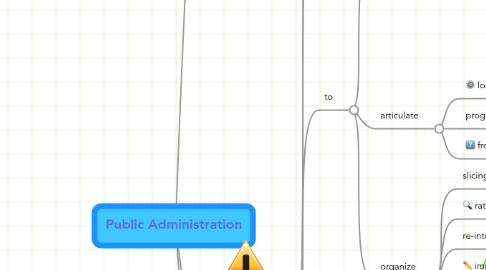 1.0
stars -
1
reviews range from
0
to
5
Public Administration
Easy
!!!
connect ideas
Excited
dream
Payoffs
solidify
achieve goals, make rigorous, academic, publish, talk, social / societal, advocate, action, policy, make better, be awesome!
express, archive, experiment
make new things
connect with, people, through ideas, see: Sacha!
research process
reading
hypothesize, research design
ask questions, learn, how, others got answers, why ask?, who else cares, where, happens?, doesn't happen?
make claims!
prerequisites
confidence
passion
argument
writing skill, grammar, vocabulary, syntax, creatively distinct
Hard
vs. Talking
free association
Proof
assess evidence
rigorously
to
concentrate, procrastination, neglected tasks, structure it, distraction, email, social media, Facebook, Twitter, paid work, Airplane Mode, Firefox Blocker extensions
articulate, logic, progression, number ideas, from outline, export
organize, slicing tasks, rational, re-integrate, implement plan, remove obstacles, make mindmaps, stay calm, this is work!
pressure
external, class requirements, length, sources, verbs, synthesize, time, competing, people, commitments, ~, self, care, things
internal, emotional, nervous, lacking love, threatened, #!@, frustrated, self-talk, fear, self-worth, defined by, quality, speed, first draft
New node