My Personal Learning Network & Goals
by Kenny Short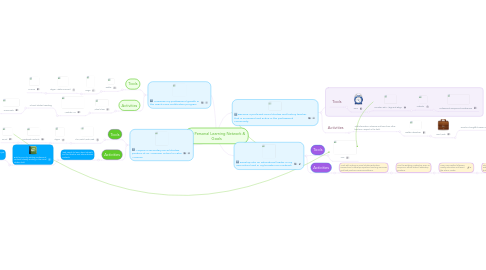 1. Maximize my professional growth in the Teach-Now certification program
1.1. Tools
1.1.1. Twitter
1.1.1.1. Diigo
1.1.1.1.1. Skype, Adobe Connect
1.2. Activities
1.2.1. Virtual Class
1.2.1.1. Modules 1-8
1.2.1.1.1. Clinical Student Teaching
2. Develop into an educational leader in my own school and in my broader PLN network
2.1. Tools
2.1.1. PLN
2.2. Activities
2.2.1. Work with History & Social Studies Education Researchers to develop expertise, teaching resources and best practices recommendations.
2.2.1.1. Join the Building Leadership Team or acquire an official district leadership positions.
2.2.1.1.1. Have 1000 Twitter followers, mostly educators and tweet like Glenn Wiebe.
3. Become a proficient social studies and history teacher that is immersed and active in the professional community
3.1. Tools
3.1.1. Time
3.1.1.1. YouTube, EdX, Vlogs and Blogs
3.1.1.1.1. LinkedIn
3.2. Activities
3.2.1. Observe and learn from other teachers I respect in the field.
3.2.1.1. Twitter Interaction
3.2.1.1.1. Hard Work
4. Acquire a secondary social studies position at an American School in Latin America
4.1. Tools
4.1.1. The World Wide Web
4.1.1.1. Skype
4.1.1.1.1. Facebook Contacts
4.2. Activities
4.2.1. Web Search to learn about schools and find teacher and administrative contacts.
4.2.1.1. Build my PLN by adding professional contacts already working in the social studies field.
4.2.1.1.1. Set up informational interviews or, ideally, job interviews with desired schools in Latin America.