Baby Unit for Pre-K
by Deanna Campagna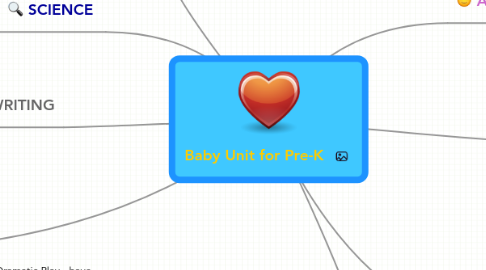 1. ART
1.1. Paint w/ baby bottle
1.2. Finger painting
1.3. Create a "birth certificate"
1.4. Draw a baby
1.5. Paint with baby lotion
2. SCIENCE
2.1. Diaper Experiment "How much can a diaper absorb?"
2.2. Taste Test - Baby Food vs. Real food
3. MATH
3.1. Sort baby clothes by color/size/gender
3.2. Count babies fingers & toes
3.3. Count how many times a day the baby eats; cries; gets a diaper change - keep a log/chart
3.4. Graph how many children have babies at home
3.5. Graph class birthdays
4. WRITING
4.1. Teacher will be the scribe: Tell a story from when you were a baby & illustrate
4.2. Generate a list of baby names
5. SOCIAL STUDIES
5.1. Discuss families / various make-ups
5.2. Create family album - use baby pictures until present day
5.3. Discuss family "roles" - mother, father, sister, brother, etc.
5.4. Make a Family Tree
5.5. Discuss how to care for a baby; rules to follow & why
6. TECHNOLOGY
6.1. Visit a baby page on a hospital website
6.2. Research how to care for a baby
6.3. Create an illustration of a baby on KidPix
6.4. Watch video on "new baby in the family"
7. OTHER: Dramatic Play; Fine/Gross Motor; Centers
7.1. Baby Station in Dramatic Play - have babies; highchair; crib; bouncer; swing; bottles; diapers; etc. to care for babies
7.2. Water Table: Babies; soap; washclothes; rubber ducks; combs/brushes = baby bathtime
7.3. Sensory: Explore w/ baby powder; use baby oil & water in bottle w/ items inside; use baby lotion on arms &/or legs
7.4. Lacing - baby shapes: baby, bottle, diaper, pacifier, shoe
7.5. Set up tunnels for students to practive crawling; have crawling races
8. READING
8.1. Babies
8.2. Kid's Book to Welcome a New Baby
8.3. Before You Were Born
8.4. Hello Baby
8.5. A Ride on Mother's Back