Happy slapping
by Adam Skill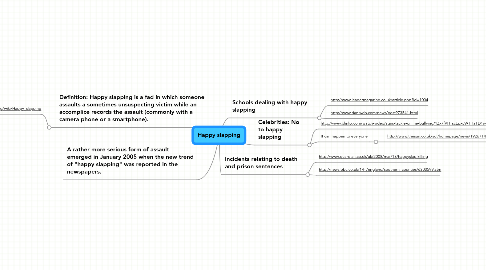 1. Definition: Happy slapping is a fad in which someone assaults a sometimes unsuspecting victim while an accomplice records the assault (commonly with a camera phone or a smartphone).
1.1. http://en.wikipedia.org/wiki/Happy_slapping
2. A rather more serious form of assault emerged in January 2005 when the new trend of "happy slapping" was reported in the newspapers.
3. Incidents relating to death and prison sentences
3.1. http://www.guardian.co.uk/uk/2008/mar/18/happyslap.killing
3.2. http://news.bbc.co.uk/1/hi/england/southern_counties/6303599.stm
4. Celebrities: No to happy slapping
4.1. http://www.blinkx.com/watch-video/stars-tackle-online-bullying/1Zx7fVH_scEpxcWTHaTD1w
4.2. It can happen to everyone
4.2.1. http://www.thesun.co.uk/sol/homepage/news/192671/Myleene-slapping-torment.html
5. Schools dealing with happy slapping
5.1. http://www.leadermagazine.co.uk/article.php?id=1004
5.2. http://www.daniweb.com/news/post973541.html