FRAMEWORK
by
Keeler Cox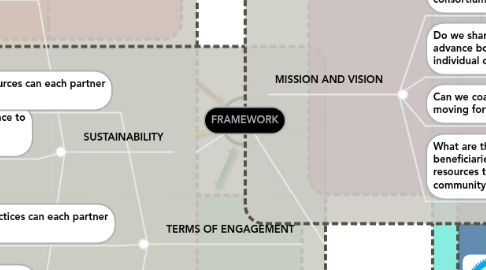 5.0
stars -
41
reviews range from
0
to
5
FRAMEWORK
.
General intro
Involving patient advocates in multi-stakeholder consortia
Communicate the mission and outcomes of the consortium to the patient population and public
.
How to share data for the common good. You enable (terms of engagement) by doing these things.
.
Make agreements and set policies on intellectual property, licensing, and commercialization to ensure transparency and set expectations.
.
How to recruit and retain talented individuals to comprise a multi-sector team?
.
Possible funding sources
Possible expenses
Common DIVERSIFIED FINANCIAL MODELS employed -- by sector initiating the collaboration
.
How do sponsors and participants validate that their contribs of time and resources are being used efficiently and effectively?
.
To define how we (partners) intend to work together, we'll need to:
SUSTAINABILITY
How will metrics be used to provide real-time feedback, and how will these impact the trajectory of the consortium?
What accountability measures must be in place to track progress and impact? Some specific examples:
Are there external factors that must be considered in the near- and long-term that could potentially shift the focus of the consortium or alter the nature of the partnership?
TERMS OF ENGAGEMENT
What assets and resources can each partner bring to the effort?
What policies and practices can each partner agree to, regarding:
What resources are needed to augment existing assets? How do you access those external resources?
MISSION AND VISION
Who are my partners? What incentives drive each of the organizations partaking in this consortium?
Do we share an unmet need that can advance both a shared goal and our unique individual objectives?
Can we coalesce around a shared vision for moving forward?
What are the outputs and outcomes of this effort? Who are the beneficiaries? Is this consortium created to provide data, tools, and resources to benefit all partners and the broader research community?