Xiong
by Xiong Huang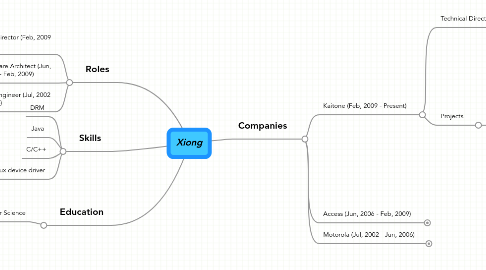 1. Education
1.1. Bachelor of Computer Science
1.1.1. Beijing Institute of Technology (1998 - 2002)
2. Skills
2.1. DRM
2.2. Java
2.3. C/C++
2.4. Linux device driver
3. Roles
3.1. Technical Director (Feb, 2009 - Present)
3.2. Software Architect (Jun, 2006 - Feb, 2009)
3.3. Software Engineer (Jul, 2002 - Jun, 2006)
4. Companies
4.1. Kaitone (Feb, 2009 - Present)
4.1.1. Technical Director
4.1.2. Projects
4.1.2.1. Mobile Widget Platform
4.1.2.1.1. Key features
4.1.2.1.2. Platforms
4.2. Access (Jun, 2006 - Feb, 2009)
4.2.1. Software Architect
4.2.2. Projects
4.2.2.1. Mobilcast
4.2.2.1.1. Podcast streaming solution for mobile phone
4.2.2.1.2. Key features
4.2.2.1.3. Platforms
4.2.2.2. Mobile Music
4.2.2.2.1. Wireless music distribution solution for mobile phone
4.2.2.2.2. Key features
4.2.2.2.3. Platforms
4.3. Motorola (Jul, 2002 - Jun, 2006)
4.3.1. Senior Software Engineer
4.3.2. Projects
4.3.2.1. CodeWarior
4.3.2.1.1. CodeWarrior Development Studio is a complete Integrated Development Environment (IDE) that provides a highly visual and automated framework to accelerate the development of the most complex embedded applications.
4.3.2.1.2. http://www.freescale.com/
4.3.2.2. ADE
4.3.2.3. MOTOHEALTH
4.3.2.3.1. MOTOHEALTH™ is an informatics system that enhances information exchange between end-users and their third-party care providers.
4.3.2.3.2. http://www.motohealth.com/
4.3.2.4. JSR 75 implementation
4.3.2.5. Mobile Emulator for Motorola Linux-Java Platform