Mobile Apps
by Tracy Finley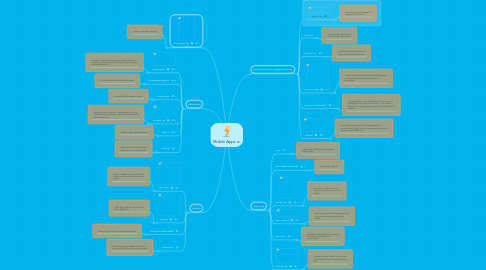 1. All Words Up
1.1. Candy Crush with Words!!!!
2. Test Prep
2.1. Cram
2.1.1. Create flashcards that can be shared with a group.
2.2. Cliff's Notes Study Guides
2.2.1. Each guide costs $$.
2.3. Pass the Past
2.3.1. Based on VA state tests, but focuses on world and American History.
2.4. Khan Acadamy
2.4.1. Free, non-profit site that gives amazing videos and lessons on all types of topics
2.5. Exam Prep
2.5.1. Relaxation techniques for test taking and dealing with stress and nervousness.
2.6. Study by App
2.6.1. Choose a subject, hear a lecture, see and create flashcards, and then take a test.
3. Reference
3.1. Google Search
3.1.1. Besides the obvious, allows you to take a picture of something unfamiliar and helps to identify it and give information about it.
3.2. Encyclopedia Britannica
3.2.1. $$- Search world's most trusted source
3.3. Thesaurus Rex
3.3.1. Works offline!!! Modern Content
3.4. Congress App
3.4.1. Non-Profit, Non- Partisan. Legislative process, live updates from Senate and House of Representatives floor, documents.
3.5. Settle It!
3.5.1. Political Fight Argument Ender
3.6. Leaf Snap
3.6.1. Snap a picture of a leaf to get identification and information
4. Parent/Teacher Communication
4.1. Remind 101
4.1.1. Free- sends text messages to parents and students
4.2. Class Dojo
4.2.1. Track behavior, attendance, communicate with parents
4.3. Voice Text Pro
4.3.1. Voice transcription of lesson or assignment for parents to see.
4.4. Paper Port Notes
4.4.1. Digital Note Taking, take pictures of whiteboard or assignments, send to parents, attach documents
4.5. Common Core Standards
4.5.1. Allows parents to see exactly what the CCS are and how they can be used in a classroom. Information about CCS is a great way to ease the minds of scared parents!
4.6. Edmodo
4.6.1. Free way for parents, teachers, and students to communicate. Ability to see if assignments have been turned in, tests taken, etc.
5. Games
5.1. ABC Mouse
5.1.1. Letters, numbers, phonics, animals, science, and civics. Fun lessons and games.
5.2. 24 Game
5.2.1. Math game. Be the first person to find a way to 24.
5.3. Stack the Countries/States
5.3.1. Geography, landmarks, capitals, flags, facts
5.4. Human Body
5.4.1. Interactive game to explore the human body and learn functions and processes.