"TARGET MARKET" - NAME SIGNIFIES OBVIOUS MEANING AS WELL AS IDEA OF A PLACE WHERE GOODS ARE SOLD.
by kenn kim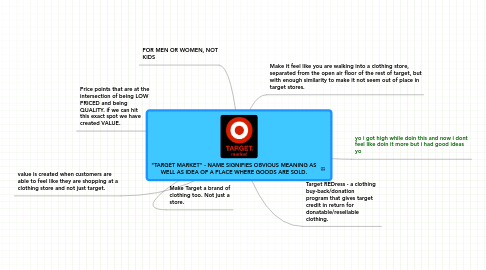 1. Make it feel like you are walking into a clothing store, separated from the open air floor of the rest of target, but with enough similarity to make it not seem out of place in target stores.
2. Price points that are at the intersection of being LOW PRICED and being QUALITY. if we can hit this exact spot we have created VALUE.
3. Make Target a brand of clothing too. Not just a store.
4. Target REDress - a clothing buy-back/donation program that gives target credit in return for donatable/resellable clothing.
5. FOR MEN OR WOMEN, NOT KIDS
6. value is created when customers are able to feel like they are shopping at a clothing store and not just target.
7. yo i got high while doin this and now i dont feel like doin it more but i had good ideas yo