Core Idea PS4: Waves and Their Applications in Technologies for Information Transfer
by Ian Lasky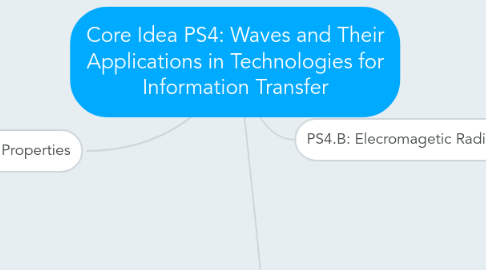 1. PS4.A: Wave Properties
1.1. All Waves Have
1.1.1. Wavelength
1.1.1.1. length
1.1.2. Amplitude
1.1.2.1. Pitch/Intensity
1.1.3. Frequency
1.1.3.1. How Often
1.1.4. Resonance
1.1.4.1. Waves add up in phase
1.2. Transfers energy without moving matter
1.3. Grade Endpoints
1.3.1. By end of grade 12
1.3.1.1. wavelength and frequency are related by speed and travel of the wave, depending on medium
1.3.2. By end of grade 8
1.3.2.1. Patterns of waves using wavelength, frequency, and amplitude
1.3.3. By end of grade 5
1.3.3.1. Waves can differ in amplitude and can add or cancel when they cross
1.3.4. By end of grade 2
1.3.4.1. Waves are regular patterns of motion
1.4. Can pass through different mediums
1.4.1. Air
1.4.2. Water
1.5. Can be used to transfer information
1.6. Types of Waves
1.6.1. Soundwaves
1.6.1.1. Made by speaking or playing music/sound
1.6.2. Waterwaves
1.6.2.1. Ripple when disturbed
2. PS4.B: Elecromagetic Radiation
2.1. Types
2.1.1. Radio
2.1.2. Microwaves
2.1.3. Light
2.2. Wave Patterns
2.2.1. Magnetic Fields
2.2.2. Particles
2.3. Grade Endpoints
2.3.1. By end of grade 12
2.3.1.1. Radiation can be molded as a wave of changing electric and magnetic fields or as particles called photons.
2.3.2. By end of grade 8
2.3.2.1. When light shines on an object, it is reflected, absorbed, or transmitted through an object. Frequency changes means change in color of the wave.
2.3.3. By end of grade 5
2.3.3.1. Light travels through space to Earth from The Sun and distant stars
2.3.4. By end of grade 2
2.3.4.1. Objects can be seen when light is available to illuminate them. Very hot object give off light.
2.3.4.1.1. The Sun
2.3.4.1.2. Fire
2.4. All Waves Have
2.4.1. Wavelength
2.4.1.1. Long
2.4.1.2. Short
2.4.1.2.1. X-Rays
2.4.1.2.2. Gamma Rays
2.4.1.2.3. UV
2.4.2. Frequency
2.4.2.1. Color Spectrum
3. PS4.C: Information Technologies and Instrumentation
3.1. Inventions
3.1.1. Microscopes
3.1.2. Telescopes
3.1.3. Networks
3.1.4. Medical Imaging Devices
3.2. Humans can't sense it, but devices can detect them depending on design
3.3. Mediums/Modes of Travel
3.3.1. Light Waves
3.3.2. Radio Waves
3.3.3. Infrared Waves
3.3.4. Microwaves
3.4. Grade Endpoints
3.4.1. By end of grade 12
3.4.1.1. Multiple technologies use waves and their interactions with matter are a part of everyday experiences in the world.
3.4.2. By end of grade 8
3.4.2.1. Techonologies make it possible to detect and interpret many types of signals that cannot be sensed directly. Many modern communication devices use digitized signals to transmit information.
3.4.3. By end of grade 5
3.4.3.1. What lenses are used for. Digital information can be stored and transmitted over long distances.
3.4.4. By end of grade 2
3.4.4.1. Personal Communication. People use their five senses to learn about the world. People use communication devices to communicate over long distances